Dearest Reader,
Each of my written offerings here at Planet Waves has, from the very first, signed off with my personal declaration, "Offered In Service." Yet, that same signature (whether explicit or not) also distinguishes every person who participates to bring this subscriber-supported, advertisement-free, one-of-a-kind phenomenon of informed awareness and empowerment to you. Please consider this statement my request that you serve in turn at Planet Waves by becoming a financially supportive member in our community through one of these three membership options:
A 12-month Core Community Pass membership, on a sliding scale
A 6-month Core Community Pass membership, on a sliding scale
A regular-price Core Community Pass membership, through recurring monthly billing
Please take a moment to consider the optimum level of your own participation, and also to recommend membership in the Planet Waves community to others you care about and wish to serve in turn (or give them a membership as a gift).
With Sincere Gratitude,

— Len
*******
I slept and dreamt that life was joy. I awoke and saw that life was service. I acted and behold, service was joy.
— Rabindranath Tagore
It's interesting how astrology always seems to know. Just as Planet Waves initiates a membership drive inspired by the art of service, Mars is about to ingress Cancer. Additionally, less than two hours after Mars enters Cancer shortly before 9:33 am EDT (13:32:52 UTC) tomorrow, asteroid 4 Vesta will align with the Moon and its nodes in a manner probably unprecedented.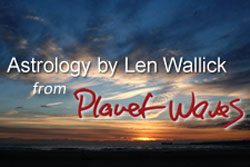 Mars so closely following the Sun's entrance into Cancer to precipitate a new season represents (as Eric has already noted) a second stage of this year's June solstice, but also something more.
Upon entering Cancer, Mars will also be opposed to the sign of its exaltation — Capricorn. The ancient tradition of astrology considers any planet opposed to the sign of its exaltation to be 'in fall', and somehow debilitated.
Yet, if the ancients (and more recent astrologers who brought us ancient tradition, such as William Lilly) were alive to speak, it is reasonable to think that they would encourage us to see their doctrines as guidelines rather than gospel. After all, what responsible astrologer would arbitrarily write off anybody born with Mars in Cancer as somehow a less viable manifestation of Martian energetics than anybody else?
Astrology is not destiny. Everybody is born with Mars somewhere in the sky, and how it elaborates through you is a function of awareness and choice, not fate. It would be absurd and pernicious, for example, to say that anybody born with Mars in Cancer has no chance of becoming a great athlete. Regardless of the position of Mars in your personal astrology, it can be made to serve, and its principal service is to life.
For, as the outstanding contemporary astrologer Robert Hand has written of Mars, "…in fact its energies are a vital part of life." Hence, Mars in Cancer can be made to serve in your life just as surely as fire (one of the manifestations of Mars on Earth) can be made to serve, rather than endanger life.
Indeed, as a member of the species that has discovered the utility as well as the danger of fire, you should be able to intuitively apply this year's tenure of Mars in Cancer (until Aug. 8) to the principle of service as a human prerogative. Fire (as represented by Mars) and water (a distinguishing characteristic of Cancer's unique identity) are not necessarily in conflict. Fire and water can, in your hands, be complementary.
Yes, fire can be extinguished by water, but that is not an inevitability. Fire can instead serve to warm and/or boil water in service of bathing, cooking and other life-sustaining purposes.
Interestingly, the principle of service, the purpose of sustenance and the subject of fire are contained in a single asteroid, 4 Vesta. Meaningfully on multiple levels, Vesta conjoins with the lunar south node in Aries shortly after 11:44 am (15:44:28 UTC) tomorrow, in precise opposition to Cancer's ruling planet — the Moon. By that time, the Moon will have moved from Virgo (where it is today) to a Libra conjunction, to the degree, with the lunar north node.
An opposition aspect consisting of two conjunctions on opposite sides of the sky and zodiac is admittedly complex. Too complex to plumb to exhaustion here. But this particular opposition of two conjunctions clearly reinforces the message that Mars in Cancer represents the potential of service, and that the form it takes is a choice rather than an inevitability. 
Vesta's name is reminiscent of the vestal virgins in ancient Rome who served to sustain an eternal flame, which in turn was thought to sustain the civilization itself. For as brutal and unconscionable as the political and military conduct of the Roman empire was, the Roman civilization served to sustain literacy, architecture and astrology among other worthy human pursuits. Hence, modern astrology's glyph representing Vesta as a votive flame, and the implicit interpretation of Vesta as representing (among other things) the art of service.
In opposition to the Moon tomorrow, Vesta will serve (among other things) to remind us that, like the relationship between fire and water, opposition aspects do not represent a conflict by default.
Rather, just as with the perpetually opposing lunar nodes, the implicit emphasis of all opposition aspects is complementary. Hence, Vesta's conjunction with the lunar south node (which represents, among other things, the past) in opposition to the Libra Moon's merger with the lunar north node (representing what the future might be), supports and reinforces the potential of what service may yet come while Mars traverses Cancer.
Indeed, how could a holistic interpretation of tomorrow's astrology serve any other purpose than to support this as a time to practice the art of service, when you consider how unlikely the combination really is? Mars tours Cancer for only about two months out of every two years. Vesta takes more than three years to move through all 12 signs, spending only a handful of days in conjunction with either of the lunar nodes during each circuit. The Moon, for its part, spends only a handful of hours each month in conjunction with the nodal points where it intersects with Earth's orbit around the Sun.
Hence, it's reasonable to say that the sum of what Mars, Vesta, the Moon and its nodes are combining in precision to represent tomorrow has never been seen before. If that is not an occasion for you to serve as you have not done before, what is?  
Reinforced by the occasion is the fact that brutality need not be served. Reiterated by the whole of tomorrow's astrology is the notion that service to civilization's highest principles may yet bring harmony between people and with the Earth itself. But only if you free yourself from all forms of doctrine as gospel, and bring your conscience to the table set by the solar system.
For while we may dream of life as joy, it is not that way by default. You must serve to make life joy for it to be so. Just as surely, you must serve the solar system of which you are a part by making astrology actually happen to its highest potential here on Earth. So, what are you going to do?
Offered In Service    
Len is available for astrology readings. You can contact him at lenwallick [at] gmail [dot] com.