One question astrologers often receive from clients is: "What does it mean?" That's a fair question to ask, so long as you do not expect simply to be given a pat answer. In general, astrology does not provide clear-cut answers. What astrology affords instead is some context in which you might discover, and even create, meaning on and of your own.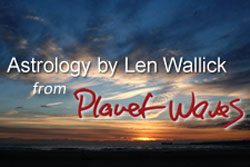 The purpose of this particular column is to propose a context for the Full Moon in Gemini coming up later today (or early tomorrow, depending on where you live). Your role, should you choose to participate, will be to take that information and embark upon a very achievable voyage of discovery and creation.
Let's start off with some basics. Every Full Moon is but one phase in a cycle of lunar phases that takes approximately one month to complete. Most astrologers consider an old lunar cycle to end (and a new lunar cycle simultaneously to begin) with what is called a New Moon.
Every New Moon takes place when the Sun and Moon occupy the same degree of the same sign, moving through the sky alongside each other basically one day a month. About two weeks after every New Moon (halfway through the monthly cycle), the Sun and Moon move to occupy the same degree of opposite signs. That's a Full Moon, when the Sun and Moon are in opposite parts of the sky, again essentially once a month.
The Gemini Full Moon shortly after 7:05 pm EST this evening (which translates to about five minutes after midnight UTC tomorrow morning) will therefore be opposed by the Sun in Sagittarius.
To begin deriving a useful meaning for tonight's Full Moon you should first place it into context with whatever initiated for you during the Sagittarius New Moon of Nov. 29. Having done that, you will also have an equal time frame to work within between now and the next New Moon, in Capricorn on Dec. 28.
The last two weeks have come and gone. You can't change what happened in the past. By the same token, however, what has happened since the last New Moon does not have to dictate what will happen until the next one.
If you want to know what the Gemini Full Moon tonight means for you, try sticking to the basics. You are now implicitly halfway through something.
What's more, with just a little time to review the fortnight just past, you should be able to discover what that something is. Once you've made that discovery, you should also be able to at least envision how you would like that something to turn out.
Once you have that vision, you will have a context in which to act. By acting you can enhance the probability of an outcome dictated (at least in part) by your will. If you can do just that, you will have taken your first small step towards making the giant leap of never having to ask anybody else what any Full Moon means ever again. That, you must admit, would quite an achievement indeed.
Offered In Service