Dear Friend and Reader:
If you're having difficulty assembling the pieces of the "pipe bomb" story in a way that resembles a recognizable object, you're not alone. It does not make any sense to me. The biggest clue is that none of the seeming bombs exploded. The second biggest clue is that they are all being intercepted.
In brief, just in case you dropped your phone down an elevator shaft and have not heard about any of this, yesterday the Secret Service announced that a number of things resembling pipe bombs had been intercepted in the mail, and that one or two had arrived by hand delivery (but were also intercepted). They were equipped with made-for-movies countdown clocks.
The first one I heard about was hand delivered to George Soros, the one-man-band left-wingnut all-in-one conspiracy of the wildest right-wingnut dreams. If "liberals" do something, he allegedly personally wrote the check.
Then packages containing what looked like bombs were mailed to Bill and Hillary Clinton, Barack and Michelle Obama, and then CNN. Try to make sense of this: we're being told that somehow, a package addressed to John Brennan, the former CIA director (and a Republican) was found in the CNN offices in Manhattan.
This resulted in the "extraordinary spectacle of the network's correspondents reporting live from the street outside," according to New York Times coverage. Yes, TV is once again the subject of TV.
Then Robert De Niro got one, and then Joe Biden. The intended recipients were all straight out of Who's Who That's Not in the Trump Camp. They bore a return address from Debbie Wasserman Schultz, the former chair of the DNC and antagonist to the Bernie Sanders camp. Is that a joke, or is it intended to implicate Sanders? If he did it, did he have help from Phish and Ben and Jerry's?
When I picked up a friend Thursday morning at Albany Airport, a place reminiscent of 1978, the first person I met was a bomb dog (an exceedingly handsome German shepherd whom I did not get to nibble). Bomb fever has seized America. Twelve days away from the midterm elections, we're thinking about who wants to kill all those "liberals." And once again, not talking about many things that are calling for a sincere, informed discussion.
Real bombs don't have visible countdown clocks; movie bombs do.
Hold that thought. Now let's look at the chart for the Secret Service announcement of the whole incident, cast for Wednesday at 9:42 am in Washington. I'm using this particular chart because it can be timed accurately and is when the issue first came to the surface of public awareness.
The Moon is that gray crescent between Eris (red oval with a downward arrow) and Uranus (the blue H, which stands for Herschel, the discoverer). The Moon is tucked in between the Uranus-Eris conjunction (which has a lot to do with the digital revolution, identity chaos and social upheaval that is part of everyday life).
The Moon has a very high number — 29 degrees and 32 arc minutes, when the highest possible value is 29 degrees and 59 arc minutes. The Moon in that late degree is void of course, which means it's done making aspects to planets in its current sign (Aries) and won't make any new aspects till it gets into the new sign (Taurus).
The first will be Moon conjunct Uranus — though it's not about this particular question, because the Moon is still in Aries. In an event chart, the void Moon about to make a conjunction to something big is the perfect picture of something that did not happen, or was designed not to happen. It is the foul ball of astrology. Usually, the result of whatever a void-Moon chart stands for is meaningless, without real effect, or goes sideways.
Consider the imagery: Uranus is a good planet to describe explosions. But the Moon has not made contact; in the scenario of astrology, it's stopped just short of doing so. This is an excellent picture of bombs that don't blow up — or that are not bombs at all. After all, things don't need to explode as long as they explode into the media.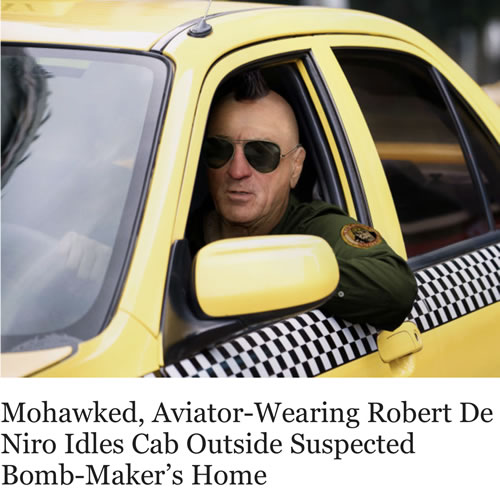 Courtesy of The Onion.
There are many possible scenarios, though what we have is a red herring in all directions. Were they mostly duds, with one intended to detonate that did not work? Was this some kind of plot to diffuse suspicion? Were they all intended to be duds? Did the worst bomb maker in the world build them all?
Is this yet more proof that everyone is supposed to hate everyone else, and blame everyone else for everything?
Did someone on the "left" do it to make it seem like someone on the "right" was attacking the "left"? Did someone on the "right" do it, to get back at everyone on the "left"? Is it a false flag in its entirely? Or maybe someone just wants to stir the pot.
Meanwhile Trump is blaming the media for the hostility resulting in a bomb sent to CNN. That makes sense if anything does.
In any event, the Moon was void, none of the bombs has (so far) blown up, and nobody was hurt. And I reckon nobody really understands what this is about, except that there's an election in 12 days, and this is all we'll be talking about for a while.
And whether this is real or not, it's stirring up a lot of fear, which you can see mainly on social media feeds, and which spreads easily. That is an effect in itself: it's a direct result, yet it also reveals how easy it is to spread panic and destabilize people. We might ask: who benefits from that?
I'm planning a more in-depth look at this issue on Sunday's Planet Waves FM. Please feel welcome to send me your theories.
With love,

– Additional research: Cindy Tice Ragusa, Sean Springer.
Expressing What's Real: Scorpio Sun Conjunct Venus
By Amanda Painter
As I write this on Wednesday morning, I'm hearing reports of explosive devices discovered at the homes of Barack Obama and Bill and Hillary Clinton, and also at the CNN offices in New York; this is following an explosive found at the home of billionaire philanthropist George Soros on Monday. By the time you read this, there will likely be more information available; but as I write, I'm most interested in the accompanying astrology. (Ed. note: as of Thursday morning, we're up to ten suspicious/explosive packages sent to eight people.)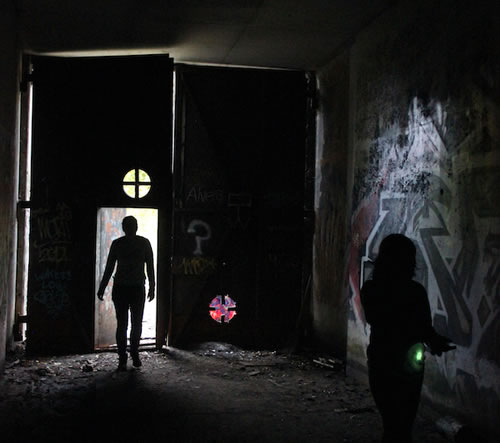 Photo by Amanda Painter, taken at the 2016 annual Sacred and Profane Festival on Peaks Island, Maine.
As if the party or parties responsible for these actions had consulted an astrologer, this all unfolded in the lead-up to Wednesday's Taurus Full Moon conjunct Uranus (the explosive planet), opposite the Scorpio Sun (secrets, death, other people's money). Close to the Sun in Scorpio is retrograde Venus — ruler of the Taurus Full Moon.
Sometimes it's just astonishing how well the aspects mirror the themes of events. By now I shouldn't be surprised, yet it can still catch me off-guard.
I'm curious whether it's possible that the connection of Venus to laid-back Taurus is a factor in the explosives being discovered before they could detonate. Is it something about the retrograde quality? (More likely Moon Void of Course; see Eric's essay above.)
What is the significance of the lunar nodes square the Full Moon configuration; is it some kind of balancing point between what we know and what we don't know, or a choice between paths of action? It also occurs to me this might signify a tipping point or sudden shift in where our collective attention is being drawn. After all, with midterm elections a-week-and-a-half away, continued revelations about Russian involvement in the 2016 election, and the ongoing, gruesome details of journalist Jamal Khashoggi's death at the Saudi consulate in Turkey, there is plenty happening that someone might want to distract us from.
I'm not going to try hazarding a guess as to who might be responsible. But I am fascinated by the timing, both astrological and political. Barely a day into Scorpio, events are speaking its language fluently, even if the meaning behind the words is a mystery for the time being.
For those who are working on unraveling the secrets of these explosives — or any other secrets, whether political, historical, deeply personal, sexual, financial, emotional and so on — the astrology of the next few days appears to be on your side. I can't promise you'll find the answers you desire, but it looks like a good time to make the effort. Sometimes we reap unexpected benefits in the process; it could also be that you're the one who offers the insights someone else didn't even know they were looking for.
There's no turning back — and we need just one thing
Dear Friend and Reader:
Life would be easier if more people used the full capacity of their minds. That goes for all of us. As we go deeper into this most unusual, challenging and potentially troubling phase of history, intelligence is the thing we need the most.
That is the theme of the 2019-2020 annual edition of Planet Waves. How can we tap into our ability to find creative solutions to problems? How can we envision, design and create a better future than the one we seem to be heading for? How can we handle our personal growth in a way that is sensitive and efficient?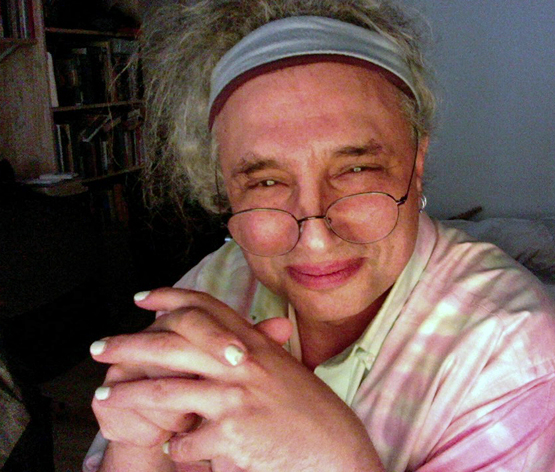 I'm getting ready to record and write the 21st annual edition of Planet Waves. I will be setting aside all but the most essential other work to write what amounts to an astrological adventure novel.
The answer is intelligence.
For the past 20 years, I've been offering annual readings that bring top-quality astrology direct to you for an affordable price. Recent editions, THE ART OF BECOMING and THE BOOK OF YOUR LIFE, have been remarkable bestsellers and helpful to my clients.
Tonight is the initial purchase offer for INTELLIGENCE, my 21st annual reading, published by Planet Waves. This letter contains important information about the discounted pre-order phase, which will be relatively brief compared to previous years. This is in part to avoid excessive email, to save staff effort, and to allow us to focus on what promises to be a truly exceptional annual edition.
Tonight we are offering a discounted purchase for all 12 signs, for Backstage Pass holders, Core Community members, and Horoscope Lover subscribers. For Galaxy Pass holders, the annual edition is included. Full price for all 12 signs, once the written portion is complete, will be $222. We are offering INTELLIGENCE at a substantial discount to readers of The Mountain Astrologer (see our ad on page 2).
Unlike in previous years, I plan to deliver RESET 2019, the first section of the reading, by New Year's Eve. Additional sections will follow in January and February, and there will be updates throughout the year. I will use written, audio and video formats, and the reading will feature an original soundtrack by Vision Quest.
Continue reading on the INTELLIGENCE homepage
This Week on Planet Waves FM
Scorpio Venus Retrograde Conjunct the Sun
Dear Friend and Listener:
This week on Planet Waves FM [play edition here], I begin with a look at Venus retrograde in Scorpio, which is making its interior conjunction to the Sun on Friday. I covered this in the Monday Morning subscriber edition as well, where I explored the themes of projection, acknowledgment of what you feel and what you want, I-statements, and seeing things from the viewpoint of the other.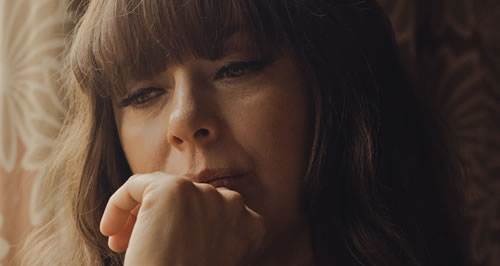 Chan Marshall, who records as Cat Power, considered moving away and leaving music behind when she got pregnant. Instead she started work on her new album, "Wanderer." Photo by Ryan Pfluger. Read recent coverage of Marshall in
The New York Times
, which includes a sample from her new album, "Wanderer." We feature her today as part of Faithless.
I then offer a look at the news, in these last weeks before the U.S. midterm elections.
The second half of the program is an extended Tantra Studio, featuring a conversation with Planet Waves FM listener Michelle Commesso. She is a mother of four children, and explains her philosophy of educating her kids about the most challenging topics of our day, from rape culture, to how to know what you want, to the basics of sex education.
Our music is from Faithless, featuring the women who have offered their vocal and writing talent to the British collective: Cat Power, Dido, and Zoe Johnston (as well as Harry Collier).
Planet Waves FM is published by Chiron Return, a 501(c)(3) nonprofit corporation, which is part of the Pacifica Radio Network. We are supported by your generous contributions, large and small, which are starting to add up each month and cover the costs of the program. All contributions are fully tax-deductible.
Thank you for being a one-time donor or monthly supporter. Here is how to contribute.
Chiron Return's projects include Planet Waves FM, The Gemstone File resource for activists and reporters, and the forthcoming Investigative Reporting from the Kitchen Table. Look for a letter surveying our readers for their interest in this class, which I plan to begin in late winter.
We are open to the assistance and involvement of those who want to participate in Planet Waves FM as reporters, co-producers and fundraisers.
Thank you again for your participation and for tuning in each week.
With love.

P.S. Here is an article about personal Twitter attacks on Jamal Khashoggi by the Saudi government's propaganda machine. Here's another on the Saudi Crown Prince claiming to have received data about his detractors from Jared Kushner. This is by Ryan Parry, whom I know from when we both wrote for The Daily Mirror.
Long Live Halloween!
By Amanda Painter
The ancient pagan cross-quarter days — Samhain, Imbolc, Beltane and Lughnasadh — celebrate the midpoints of the seasons. For some reason, Samhain still seems to enjoy the most vibrant celebration in modern life, at least in the U.S., where it goes by the popular name Halloween.
In some cultures, All Hallows' Eve or All Saints' Eve still carries religious weight, dedicated to remembering the dead: saints, martyrs and all of the 'faithful' departed. Here, popular culture has drifted from the more reverent facets of the celebration; but we've kept so many elements that date back to the ancient days, it's almost spooky. Which makes sense, given that Halloween occurs with the Sun in Scorpio.
I'm not sure why carving vegetables and dressing up in costumes to visit neighbors' houses has survived, when we no longer parade house to house with a Brigid doll and cross in February (Imbolc). Maybe because the old Samhain traditions lend themselves to more fun?
Or perhaps it's because we're still so fascinated by what 'lies beyond' the grave, and the liminal spaces between light and shadow. Maybe, in this world where there seems to be so much to be afraid of so often, and we can feel so helpless against it, we simply like being able to exercise some control over what scares us; especially when we know we'll immediately laugh about it afterwards.
Listen to Vision Quest on Live Stream
Planet Waves has an in-house music ensemble, called Vision Quest. We have a 38-hour loop of our music, which you can listen to any time. Included are finished pieces, rehearsals, live concerts, drum grooves, and spoken word recordings. I consider it a kind of musical divination. Click in randomly at different times of day and see what you discover.
Our Gifts to You: A Little Something Extra
Dear Friend and Reader:
It took me a long time to figure out what kind of gift to offer for new and returning subscribers. Tee shirts seemed too complicated; you need at least six sizes to get started, and not everyone wants a shirt. Tote bags are useful but kind of boring.
So I thought: journals. I love notebooks, and just about everything I write starts scribbled down on paper. I know my readers are a little old-fashioned, so this seemed like the perfect thing.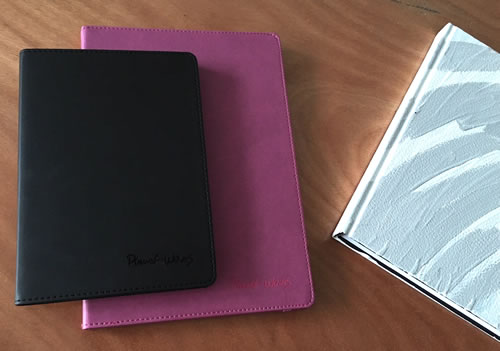 Black smaller, pink larger, embossed with the Planet Waves logo. There are a few hand painted sketchbooks left, with heavy, acid-free paper.
Then…I researched embossed journals for about six months. That's how long it took. I requested or purchased samples of the best that suppliers had, and all kinds of stuff came floating in the door. It was more challenging than I imagined to find a nice one, though finally I did.
Everything had to be right: the paper, the lines, and how the book feels in your hands.
However, the one I selected was being discontinued. I ordered as many as we could reasonably afford. We now have two main options: small black ones, and larger pink ones (these are new).
Together, they are the approximate color of Good & Plenty candy. I am one of these people who loves anything pink (sweatshirts, nail polish, headbands, a hot pink Squier guitar that I gave to Zosha a few years ago). We also have a few hand-painted notebooks left, which are acid-free sketchbooks.
You can get an embossed notebook with any monthly, quarterly or yearly membership to Planet Waves. If, by the way, there's a calling for hand-painted ones, I will make one more-or-less to your preferences (for those who sign up for a full-year Backstage Pass).
Continue reading this letter here.

Monthly Horoscopes and Publishing Schedule Notes
Your extended monthly horoscopes for October were published on Thursday, Oct. 11. We published your extended monthly horoscopes for September on Thursday, Aug. 30. Please note: we normally publish the extended monthly horoscope after the Sun has entered a new sign.
Aries (March 20-April 19) — When you think you're looking at something objectively, be wary. None of us are brought up in a wholly sterile environment. Our culture is rife with underlying prejudices, which we cannot escape entirely. This doesn't mean we are incapable of good decisions or open minds; just that a purely clinical point of view is not so easy to attain as one might think. We also tend to judge and therefore sideline our emotional responses, though these are perfectly valid. Consider what you might be hiding from yourself. Get your full reading by Eric here.
Taurus (April 19-May 20) — How often do you rely on others to set the parameters of your self-worth? As Venus retrograde in your opposite sign forms a conjunction with the Sun this week, you may find yourself asking this or similar questions. Be on the alert, additionally, for clues that you might be limiting your estimation of what is within reach, and projecting that restrictive quality onto someone specific, or the world in general. If you're feeling hemmed in, that may be your cue to start thinking outside the box. Don't wait for permission to move forward. Get your full reading by Eric here.
Gemini (May 20-June 21) — The week ahead will likely go a good deal more smoothly if you focus on the resources you already have; what is tangible and immediately available to you. There's nothing wrong with pursuing dreams and ambitions; however, we must also live our lives day to day, and to some extent this is easier to do cheerfully if you are actively grateful for the blessings you enjoy now. If you have a roof over your head, running water and a regular source of food, those things count. If you can look up and see the stars at night, that's another. Get your full reading by Eric here.
Cancer (June 21-July 22) — For you, providing for those you care about affords a deep sense of satisfaction, and contributes infinitely to your emotional wellbeing. Of course, I'm not simply referring to financial provision here, but things like a hot meal, a listening ear and some friendly words of wisdom. Artistic expression is another way to offer something to the world. It's true that altruistic sentiments are not exactly fashionable, and some may suggest you should curtail your generosity or channel it in a different way. You don't need to listen to them. Get your full reading by Eric here.
Leo (July 22-Aug. 23) — The astrology this week will probably shine a spotlight on part of your emotional world. Don't be afraid to explore what you are feeling and take the chance of understanding that side of you more completely. You might even try wearing your heart on your sleeve to a greater degree. Some may react critically to that approach, but that's their business. It certainly need not stop you forging a better and more honest relationship with yourself, and showing the world an example of what it means to be open and sincere.Get your full reading by Eric here.
Virgo (Aug. 23-Sep. 22) — In one part of Pride and Prejudice, the playful heroine mocks the hero by suggesting he prefers not to speak unless he has something to say that will amaze the whole room. Many of us contain, in some way, this wish to appear sophisticated or relevant, which can prevent us from saying what's really on our minds. The current group of planets in your 3rd house of communication can help you better comprehend the reasons for what you choose to say and what you're withholding. Imagine how it would feel to speak without any reserve. Get your full reading by Eric here.
Libra (Sep. 22-Oct. 23) — The Sun-Venus conjunction in early Scorpio this week may seem a little like an extended birthday season for you. Perhaps you're feeling somewhat more stable in terms of finance or security, or just more aware of the good things around you. If so, you might benefit from finding a way to pay it forward — that is, to do something kind for others who need it. This doesn't require you to compromise any hard-won gains, and you will almost certainly feel enriched by it in other ways. Get your full reading by Eric here.
Scorpio (Oct. 23-Nov. 22) — After the recent Full Moon you may have become aware of a certain mental challenge you're facing, like a puzzle waiting to be solved. The answer is not likely to be especially simple; however, figuring this out could well provide you with significant leaps of insight, and may also release a lot of tension. You are moving toward a clearer sense of your own intentions and your mission, and this exercise is potentially a key part of that process, drawing you closer to yourself, your identity and your strongest beliefs. Get your full reading by Eric here.
Sagittarius (Nov. 22-Dec. 22) — As your ruler Jupiter approaches your sign, which it will enter on Nov. 8, take some time to recollect what the past year has taught you in terms of your most deeply held feelings, dreams and secrets. You've come to know this part of yourself perhaps better than you ever have, and may consider the work you've done as a solid foundation for the months ahead. Now you're getting ready to switch gears, though you don't have to bolt out of the gate by any means. When you do, it'll be with a fuller and more substantial trust in who you are. Get your full reading by Eric here.
Capricorn (Dec. 22-Jan. 20) — It's true that you have ample justification in relying on your personal strength, grit and willpower, all of which have been known to keep you ploughing ahead through many a challenging moment. If there's a zodiacal embodiment of the phrase "keep calm and carry on," Capricorn is definitely in the running. It's not easy in such circumstances to admit that one is in need of support. If that does happen to be the case, however, try to open up and let your friends help you. If nothing else, it will cultivate trust and sharing, of which we all need more. Get your full reading by Eric here.
Aquarius (Jan. 20-Feb. 19) — You seem to have reached a turning point in terms of your career or fulfillment of your ambitions, which involves releasing something that has not been serving you lately. More than likely, this is of a nature that restricts you from claiming a part of your identity, or at least displaying it in a workplace environment. You need room to cultivate and express your more refined tastes and sentiments, to bring your innate abilities to your role, and to develop your mind. This would probably be a good time to stop pretending any different. Get your full reading by Eric here.
Pisces (Feb. 19-March 20) — Imagine following a spiritual path in which you are the sole arbiter of your daily practices and the rules by which you live. You set the ethical standards and the manner (if any) of ritual or worship. There is no authority higher than yours; no written guidebook; no compulsory attendance — and also no peer pressure. What principles would you set? What would you hold sacred, and what forbid? The answers to these questions could shed a lot of light on your feelings, what is truly dear to you, and the things you genuinely believe. Get your full reading by Eric here.