In spite of a persistent reputation as a tool for prognostication, the best practices of astrology do not include forecasting the future. Rather, astrology — and any oracular method for that matter — is most reliably employed to understand the present.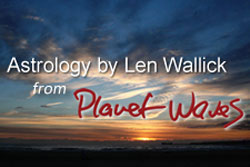 Now, perhaps more than at any time in recent memory, astrology is offering useful perspective on the present. Specifically, that perspective will be available to those who can emulate Jupiter's place in the big picture.
As discussed in this space on Tuesday, the big picture being currently sketched out in the sky above is a climate both compelling and favoring adjustment here on Earth below.
The aspect indicating the advisability of either initiating or considering the need for adjustment features Mars, Uranus and Eris. For its part, Mars is currently in the midst of holding the same degree of Scorpio for more than three weeks as its retrograde period comes to a close.
For their part, Uranus and Eris are conjoined, sharing the same degree of Aries precisely 150 degrees away from Mars on the zodiac circle. The result is a geometric relationship (or "aspect") called a "quincunx" by astrologers. The relationship implies a time of adjustment, among other things.
Today, both the astrology above and events here below appear to be filling in some of the details on the big picture. With the news of the UK's referendum vote to separate from the European Union comes a great deal of uncertainty. Regardless of how it manifests, any environment characterized by uncertainty puts a premium on the willingness and ability to adapt.
Interestingly, today's astrology features Jupiter in Virgo indicating how to deal with both an atmosphere of uncertainty and an evolutionary imperative to adjust. Just as with the quincunx aspect from Mars to the Uranus-Eris conjunction, however, Jupiter's place in our present astrology must be considered in a holistic context. That's because Jupiter has this year been involved in some defining aspects of its own. Actually, the whole scenario started in the latter half of last year.
On Aug. 11, 2015, Jupiter concluded just over a year in Leo to begin a similar tenure in mutable, earthy Virgo. With its ingress to Virgo, Jupiter commenced a long opposition to Neptune on the other side of the zodiac in watery, mutable Pisces.
Then, in September of 2015, Saturn completed a long transitional period to enter mutable, fiery Sagittarius for more than two years. With its ingress to Sagittarius, Saturn converted the Jupiter-Neptune opposition into what is called a mutable T-square aspect; Sagittarius is halfway between (or "square") the opposition of Virgo and Pisces on the zodiac circle.
Finally, last November, the perpetually opposing lunar nodes left the Aries-Libra axis behind and entered the Virgo-Pisces axis through the back door.
One result of Jupiter, Saturn and the lunar nodes changing signs last year has been that this year Jupiter has been part of a more-or-less continuous representation of inner tension (square aspects from Sagittarius), along with outer confrontation (oppositions along the Virgo-Pisces axis). On the whole, such a symbolic situation implies that sooner or later, something has to give.
Now, with this most recent vote in Great Britain, it appears as if something has indeed given way. Yet, because of its unprecedented nature, the consequences of the British referendum are anything but certain.
A lot of things come with uncertainty. Not all of them are bad. Indeed, if Jupiter's major aspect today is indicative, the only thing anybody need fear is fear itself. That's because fear interferes with the ability to adjust and adapt.
Jupiter's major aspect today is the third of three earth trines (separations of 120 degrees) with Pluto in Capricorn. The first two such aspects from Jupiter to Pluto were on Oct. 11, 2015, and on March 16, 2016. The final trine from Jupiter to Pluto will not be exact until Sunday, but is definitely functional now. Among other things, trines represent a conductive flow of energy.
Jupiter, in its current context, appears to be corresponding with (in the words of Robert Hand) "the individual reaching out to include more and more of the universe and its experience within himself or herself."
Finally, among other things, sublime and complex Pluto correlates with the slow but intractable process of evolution.
Evolution itself thus seems to be both the lock and the key when it comes to understanding the present. If your response to the combined imperatives, tensions, confrontations and flows of the present moment is to be afraid, the lock will prevail.
If, however, you can make like Jupiter by remaining open to (if not embracing) the possibilities of this dynamic moment, you might very well find yourself holding a very useful key. That key, if employed without fear, will open a door to comprehending how going with the flow of uncertainty at this time will not only reveal your place with the present, but also will indicate at least some of the possibilities held for you in an unpredictable future.
Offered In Service