To our national shame, it is becoming the norm to see a weekly police killing of an African American, with Sam Dubose and Sandra Bland the most recent victims. The targeting of African Americans has been made more than obvious in the way the criminal justice system is set up: from street arrest, to violent confrontation, to inhumane and deadly treatment during or on the way to incarceration.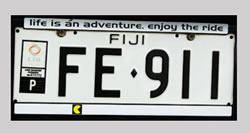 Sam Dubose's killer, university police officer Raymond Tensing, had a look of outraged disbelief as he watched the video footage of his encounter with Dubose — disbelief that his own arrest, for killing Dubose, was even happening. Even though his own body camera betrayed his lies about his actions and about being dragged by Dubose's car, the man pleaded not guilty to the crime of first degree murder.
I hope to be wrong on this, but it would not surprise me at all if we find Tensing at minimum a racist, perhaps even a white supremacist. And even if he isn't, he has on his side a criminal justice system that will find cause for his defense based on a tradition of police bias and racial profiling. Tensing is now out on bail and, unfortunately, that is no surprise.
If there is truth to Raymond Tensing being a racist, he joins others who have found a home in police departments, where racial profiling against African-Americans is institutionalized. And regardless of their fellow officers' guilt or innocence, they still protect their own.
Homeland Security Newswire reported that in 2009, Department of Homeland Security chief Janet Napolitano updated FBI reports on domestic terrorism from 2004, 2006 and 2007 alerting Congress of the local threat from right-wing extremists and other hate groups. These reports were met with criticism from conservative members of Congress and the media, who called Napolitano's warnings "politicizing." The article goes on to report:
The FBI notes that since then, most of the extremist groups have been using secretive tactics in order to keep themselves under the radar. One such maneuver is to go to various police stations and offer information in order to gauge the agency's interest in an organization.

Another tactic is called "ghost skins." This involves members of neo-Nazi and other white supremacist groups hiding all or part of their affiliation in order to join the military as well as other areas of law enforcement for the purpose of receiving training.
The FBI had it right in 2006. The greatest threat to the country's security does not come from Islamic extremists threatening to take out a city using a hijacked airplane. It comes from extremists who are home-grown.
From Ruby Ridge to Waco, Oklahoma City and onward, white extremists and other hate groups have never gone away. They went underground, finding safe havens formed under the radar using the Internet like any other political group, as an organizing and recruitment tool. Sept. 11, 2001, was the best thing that happened to the extremist movement because it eased the heat the government had been putting on them for nearly a decade — from the 1990s on. This allowed enough time for these groups to organize militias and stockpile weaponry from lax gun control laws abetted by a Congress that reflexively cowers before the National Rifle Association.
It was difficult to broach the subject of Sam Dubose's murder on the heels of the death of Sandra Bland, Freddie Grey, Tamir Rice, Eric Garner and Walter Scott without first finding and looking at a larger picture, which we now have, minute by minute and provided in stunning detail from police cameras.
African Americans are targeted. They aren't the only target of hate groups under police guise, but they are certainly the largest. If racist and homophobic police can be found in uber-liberal San Francisco, they can be found anywhere.
Until we root out the worst offenders within police ranks — people with racist agendas, anti-Muslim vigilantes, homophobes — armed with deadly weapons and using them indiscriminately, and until there is actual police reform across the nation, the police are suspect. And these deaths will continue.
This is why the Black Lives Matter movement is both timely and important for African Americans and for all of us. This is why the work of the Southern Poverty Law Center, which tracks hate groups since the FBI can't (because that would be politicizing), needs to be supported at every level possible. We need more sunshine to blast the underside of rocks where these vermin live, undetected.