Puerto Rico has just voted in the Democratic primary, and on Tuesday, California and New Jersey votes are anticipated to confirm — for better or worse — Hillary Clinton as the Democratic nominee to run against Donald Trump. Relinquishing ground-level field reporting on presidential primaries, I now have to ask, "How the hell did we get here?"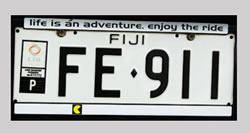 The juxtaposition of the two nominees is a precise picture of the political divide we're at in America today: a career politician and a millionaire business executive. Both of them raise questions in the public's mind about their roles in the past, their positions in the present and at the very least their integrity. Both represent what the other side hates the most.
Delving deep into our public dissatisfaction, yes, government has failed us. Various corporate interests control how government functions, allowing corporations their free rein over the planet. That lack of functioning affects all our lives. Congress, mostly bought by private interests, has done us few favors.
There are enough out there who have built up their institutional power, step-by-step, to achieve the aim of a non-functioning government. By and large, they have almost succeeded. Congress is unable to pass even meager legislation. It is almost always close to failure in approving the federal budget every year. Good legislation sits in Congress and rots. The Senate is shirking its Constitutional duty by continuing to ignore its advise-and-consent role in affirming Justice Scalia's replacement on the Supreme Court. Cases now languish on the docket, or are referred back to the lower courts.
So much of the system has NOT worked in its basic function. It has failed the working poor and the poor. It is also failing the middle class, and when you fail the middle class here and everywhere, revolution is not far behind. We have forgotten the human role government plays, and the gears of government have frayed. As long as we can still have elections, it will be all about saving us from ourselves — our government.
We're watching a widened political and social breakdown. Political discourse — where people discuss and argue the actual merits of policy decisions — has deteriorated to toxic levels, fueled by the Internet. What Mrs. Palin opened in 2008 and what the Tea Party furthered in 2010 were the floodgates of ignorance, and the celebration of a lack of information.
Personal opinion is fact. Bigotry, xenophobia and misogyny naturally ensue. Multiply that by the speed of a tweet and we have a political discourse that is far from polite disagreement. We're at siege against the lowest parts of ourselves. And the world watches in dismay.
Each subsequent election from here on out we may see more of the same — Trump worse, not Trump-lites. The political discourse has been coarsened enough, the threshold for reasoned thought — the bar — has been lowered enough that we've dug ourselves deep into a trough. How much more ignorance, brutality and xenophobia can we bear?
On that, I have to hand it to the Republicans. The Republicans of Richard Nixon's days seem more 'normal' and civil than today. They're today's Democrats. Now today's Republican party is ceding its power while being taken over by a mob. A natural evolution.
With Pluto in Capricorn on its march towards the revolution of Pluto in Aquarius, how we're heading to that revolution is clearly on us. Maybe we should look deeply at how much of our own power we've handed over in various ways on a daily level. To what extent have we not taken in the needs of others alongside us? How buried are we in our phones, selectively parsing through feeds that we're interested in, and not watching the news where other parts of the world burn?
How much have we let our anger and fear take over our decisions? How much have we relied on a leader to cure everything and not taken on personal leadership ourselves?
Revolution is more than a political slogan. It is a word not to be taken lightly. Yet it is sorely needed here, not only politically. How afraid are we of facing our own demons that we're promoting the world's biggest bully — Donald Trump — as president of the United States? Why do we think we need this in the first place? Perhaps the first blow against the lowest aspects of ourselves may be this election; and if she wins, getting Hillary to STAY left instead of listing right, politically and militarily. She better heed that, with the much-needed 10 million votes that Sanders supporters can provide.
I have no idea how this is going to play out. It's the first time in my life to see something like this: a republic seriously considering a dictator for the White House. And as a child of the Sixties, I have seen a lot.
But because of that, I have seen the better angels of our nature rise to the occasion under worse conditions. Time to put on our running shoes. Clock is ticking. It took us more than 16 years to get here, and we're gearing up for the next eight years under powerful stars to turn things around — which is what a revolution does — because the race is on.