Mars changes signs today. All year long, it's been dancing back and forth between Scorpio and Sagittarius, due to being retrograde in that portion of the sky. Now Mars is ingressing Capricorn, a cardinal sign — that is, a sign based on action.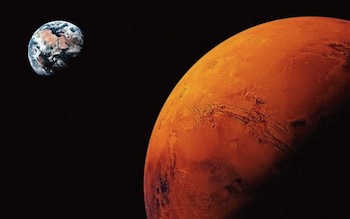 Capricorn is also the sign where Mars is exalted (a term from traditional astrology) — meaning, in a word, effective — and able to manifest its full potential more easily.
Mars joins Jupiter as a new addition to the cardinal signs; Jupiter entered Libra on Sept. 9. Because Mars is still moving slowly after its retrograde, its daily motion is currently just slightly faster than Jupiter (and accelerating fast). The two planets will be in a long square aspect that builds Oct. 5.
This is a point of action, of decision, of using what you know. There are many highlights to Mars in Capricorn, which we'll get into in the days ahead.
---