Planet Waves is running a membership drive.
Read more in Solstice Fire and the Art of Service, by Eric Francis.

Note to readers: This full Planet Waves issue is open to all visitors this week. It contains your extended monthly horoscopes for July, as well as links that can help you get friends involved with Planet Waves.
Dear Friend and Reader:
This week, timed with the solstice and Mars entering Cancer, we are launching a membership and fundraising drive for Planet Waves. All of our work here is sponsored exclusively by you, our readers. For many reasons we remain free from corporate sponsorship and outside advertising.
We create the work that we offer to you and the world — Planet Waves newsletters and horoscopes, our daily magazine with many writers and artists, its diversity of topics and professional editing, the annual edition with written and audio readings, Planet Waves FM and Planet Waves TV, my classes and birthday readings — all with only you as our sponsor.
Planet Waves is not a blog. We are a web-based publishing community doing something genuinely creative with astrology, and with art, and many other modes of writing — all with the message: this is your moment to live your life.
My goal with this letter is to get you so psyched that you want to subscribe, and if you're already on board, to make a donation or give a gift subscription to a friend.
First I want to begin with a story. When Planet Waves set sail on the Internet in December 1998 — just a few months after Google launched its search engine — the Internet was a quieter, simpler place. There was a sense of mystery, potential and discovery. Every website offered some new curiosity to be explored.
Publishing anything — a picture, an article, a graphic — seemed daring and liberating. It was viscerally exciting to reach people in far-flung places, and to hear back from them.
I began with one artist, and a couple of photographers. A friend taught me some very basic web programs (PageMill, Fetch). Using an antique Macintosh, we launched the first Planet Waves site in a few hours on the winter solstice of 1998. It was rather basic, consisting of a cover page, a contents page and a weekly horoscope.
Planet Waves had begun. We have published every day since, nonstop for the past 16 years.
When we started, the world was a quieter place. Do you remember? Nowadays there's hardly any recollection of life before 9/11. The peace, calm and relative prosperity were more fragile than we realized at the time, if anyone even noticed.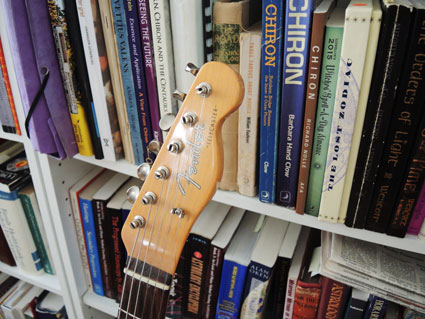 The Chiron collection in my podcasting office (books by Clow, Stein, Reinhart and others), with a Fender Telecaster. In my life, astrology is always set in the context of art. Chiron embodies the art of service. All photos in this article are by Eric Francis Coppolino.
I, for one, was never willing to bet on the worst happening. Along with millions of other people, I was relieved that the Y2K bug turned out to be nothing. That week I wrote a euphoric article called The River of Night.
Yet beginning with the stolen election of November 2000, fear began seeping through consciousness, and much of it was conveyed on the Internet. The pace of the 'net picked up, and the temperature dropped, as it became a place where one of the main commodities delivered was paranoia.
It soon became clear that Planet Waves was an oasis within the madness. I figured out that our perspective was actually helping people keep some semblance of sanity. Others who refused to watch the news were telling me that I was their sole source of contact with the political realm. I was truly grateful to have put in 10 years as a full-time reporter and editor prior to touching astrology.
World events made it easy for me to apply my astrology gift and my journalism skills. The most horrific developments lent themselves well to my combined method of news analysis and astrology. This in turn helped diffuse some of the pain and discern some meaning behind even the worst events.
Astrology also helps decode the personal relevance of otherwise impersonal world events. Astrology is the shared ground, the point of contact, between the individual and the collective.
Then came advertising. The 'net started with next to no advertising at all. Eventually big companies figured out they could reach people here. The Internet was very nearly reduced to a corporate tool, flooded with advertising and PR-generated 'viral' videos and spam.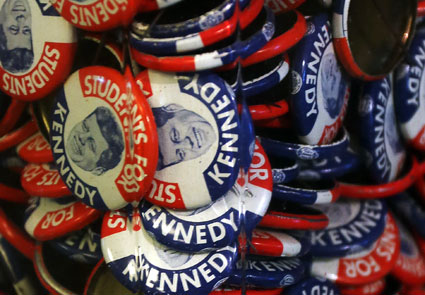 Students for Kennedy buttons at Outdated Cafe. Most 'spiritual' organizations shun politics. Planet Waves embraces it as a viable force for personal growth.
I once met Pres. Kennedy in a dream
.
Everything was becoming sponsored by some kind of entity trying to manipulate us. Ads started appearing in personal email, which was suddenly being read by robots. Today most television ads mention a website and many are exclusively pushing websites.
As this tide has risen, Planet Waves has steadfastly remained free from corporate sponsorship and outside advertising. My goal is to present a clear environment where you're free to think for yourself.
I don't want visual or mental clutter, noise or interruptions where you do your deep thinking. Most significantly, I don't want to be influenced by the political whims of advertisers. I am happy answering just to you. What I do offer — my readings and subscriptions — I take personal responsibility for.
As things got ever-weirder, Planet Waves held open a bastion of sanity. We did so consciously, asking questions in a clear voice, taking nothing for granted and maintaining close contact with our readers.
Many times I've worked around the clock to keep up with a major news story — such as the Fukushima meltdown — just because I knew people would be coming to Planet Waves for information. Many had already decided I was the one journalist they actually trusted.
We've also remained a haven of creativity — where artists and writers could easily find a place to develop their talent and get their vision out to the world. Planet Waves is the home of the well-crafted personal essay, from the heart. It's the home of the most magnificent photography. We have just two syndicated features — comic strips on the genius level, by people we trust. I would estimate that we have, over the years, hosted the work of more than 300 writers and artists.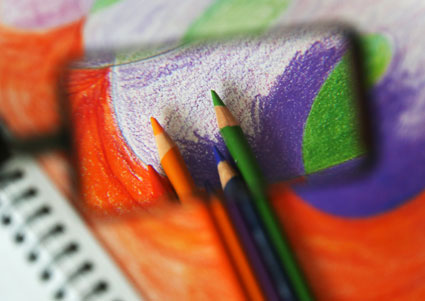 Art, not advertising. The ad industry skims the most creative people — and resources — and funnels them into an intimate kind of manipulation.
And of course, we bring you astrology — open-minded, adventurous, self-empowering, modern astrology. Astrology that has both feet on the ground, looking for metaphors in the sky.
We continue to do all of this every day. We provide a place where you know you're going to read something reassuring, something that helps you feel better about yourself, something friendly or funny or loving or at least realistic.
Fe Bongolan, one of our columnists, is fond of calling Planet Waves a psychic bomb shelter. When the shit hits the fan, people come flocking to us, and are invited to engage in a conversation. I also envision Planet Waves as a place where, together, we can imagine a better future.
We do what we do on an incredibly small budget — less than the salary of many modestly paid business executives. I work for less than the salary of a New York Times reporter. Every penny we make is invested into the work that we do.
We are sustained by a combination of subscriptions and sales of my readings; about 80% of our content remains free of charge — and 100% is free of advertising. Think about that for 10 seconds and you'll figure out what a miracle this all is.
This week and next, along with my creative team, I am going to give you many, many reasons to subscribe to Planet Waves, and to become a customer of my excellent astrology readings. It's not just that the quality and volume of work that we do each day, week and year deserves your support. It's the fundamental values that drive us that I am asking you to vote for.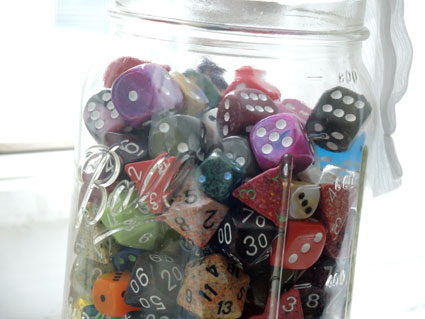 "Don't trust your life to games of chance," it says somewhere in the Bible. "God does not play dice with the universe," said Einstein, commenting on quantum physics. He did not understand its probability model at the time.
If you're one of many people who graze our content, we are asking you to stop, sign up and consciously support what you and so many people benefit from.
Our many projects, such as Planet Waves FM, Planet Waves TV, the annual edition and our library-scale archives, are all great reasons to subscribe and join others in supporting our work. I'm going to give you three better ones — my summary of the values that underlie my philosophy as an editor, astrologer and publisher.
Everything you read, hear or see on Planet Waves, everything and anything, especially astrology, has a foundation of underlying values. I am driven by several core values that inform everything I write, and everything published by Planet Waves.
We Offer Tools For Living
There exists the idea that astrology is supposed to provide predictions or easy answers. We take a different approach, a more responsible one, offering ideas and tools you can use to guide your creative process, to repair your life, to open locked doors and to release trapped potential. As you read, imagine yourself collecting ideas on a ring that you keep with you at all times.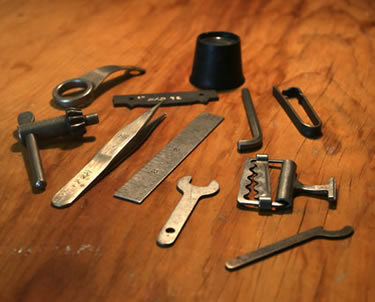 I use astrology as a way of giving you specific tools you can use to craft your life. They have taken me decades to acquire. All of our artists and writers make this kind of offering.
My astrology readings, articles and horoscopes are focused on providing you with tools you can use to consider your circumstances, communicate more clearly and solve your problems.
The same is true for everyone I've selected as a writer. There are times you will discover one idea that you carry with you, and use regularly for the rest of your life.
Our approach to the work is practical. Life is mystical and mysterious enough without bogging the mind in abstract notions. We do our best to deliver coherent, focused ideas that actually serve you.
This leaves your creative power in your hands. We encourage you to use your creativity to heal and build your life, and to practice whatever you feel is your true art form.
We Put Your Humanity, and Our Humanity, First
Astrology is about people and our relationships. What we write and produce is offered from a place of vulnerability, which means being open, and taking risks. Our work is created and offered to you by real people, not a corporate machine — or written by a computer. (Google has recently started offering computer-generated articles.)
Creating authentic, well-crafted work takes experience, effort and resources. We invest those generously. Our writers and artists are people who have spent many years concentrating their knowledge and communication skills. We are generously willing to share ourselves with you.
We sign our names to what we do, and hold ourselves accountable to editors, fact checkers and editorial standards. We are all available to be contacted. It's worth mentioning how rare this is on the contemporary Internet.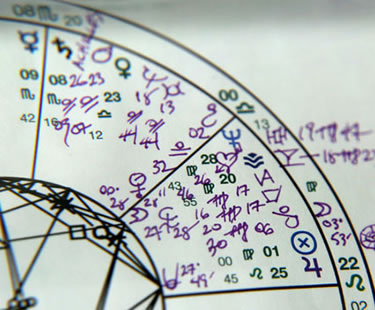 Astrology is a handcraft as well as a mindcraft. This is one of the rarely-used charts for the United States (for the Articles of Confederation), called Scorpionic America.
Read about it here
.
We Use the News
Planet Waves is based on a news reporting model, which evolved into an astrology project. We are worldly before we are spiritual.
As the world seems to go insane with violence and greed — sometimes gradually, sometimes rapidly — we interpret global events in a way that helps you process them and understand your relationship to them.
This saves you the vast ocean of energy that you might otherwise spend not paying attention or refusing to be overwhelmed by negativity.
Miraculously, and unlike any other approach I've ever seen used, we use the news as a growth platform, guided by the idea that the political is personal and the personal is political. As people grow increasingly concerned about the global situation, we continue to focus our journalistic efforts at understanding what's happening and relating why it's relevant to you.
We bring bold originality to everything we do — in our use of astrology, our view of the world and most of all, our approach to you and your life.
We do what we do every day for you. Each week hundreds of hours in research, writing, design and recording go into the creation of our materials, and we offer it to you as affordably as possible.
You in turn have made Planet Waves possible all these years. We know that, and we strive to be as dependable as we depend on you.
How You Can Get Involved or Bring Others On Board — and Support the Growth of Planet Waves
Planet Waves is a membership organization, and a place to get the highest-quality astrology readings. We thrive on your business and your generosity. Much of what we do is offered free. We depend on your membership and gift memberships, and gifts of readings and subscriptions given to others.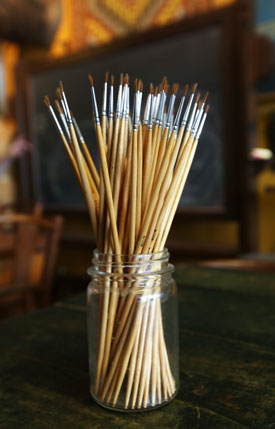 There's enough paint brushes for everyone. Thin vintage sable brushes at Outdated Cafe.
If you're already a Core Community or Basic Subscriber, member, you can upgrade or renew early at a discounted rate. Or you can upgrade to an All-Access Pass, which gives you access to everything we do for one year.
Or you can give a gift subscription at a sliding scale rate for six months or one year. You may use these links to subscribe if you're currently not a Core Community member.
If you have not read and listened to your 2015 annual reading, that's as fresh and alive as ever, waiting for you at a reduced midyear price. You'll have access to audio and written readings for all 12 signs, including your rising and Moon signs, and those of significant others.
My annual edition is the richest astrology resource that we offer, in one place, for the cost of a tarot card reading.
If you can afford to support us with a donation, we have four levels for that — $100, $250, $500 and $1000.
Through the next week or two, we will be continuing our membership drive. We'll be sharing more stories, archive offerings, and special editions of Planet Waves FM and TV.
Please watch your inbox and pass these along to others. There's an Art of Service edition of Planet Waves FM below. I'm planning on doing a new episode of Planet Waves TV shortly as well.
Most of all, thank you for collaborating with us on Planet Waves.
With love,


Why I Support Planet Waves
From a recent $1,000 Donor (a Capricorn)
We all vote with our money every day…where we shop, whose label we buy, what causes we support.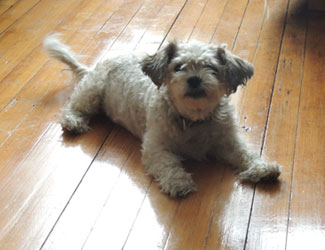 Henrietta Saint Francis, the latest addition to the Planet Waves creative (and security) team.
I often find myself torn as to where to help out in the world, since there is need everywhere and so much that needs work. I wonder if what I give is enough to even make a difference.
It has become very clear to me to give to those whose work in the world can help change the world significantly, with a far-reaching impact.
I look for people and places where even a little bit can have a big effect…like Pholus!
Planet Waves is that place.
Their work is woven with skill, integrity, authenticity, insight and empowerment. We are being awakened and attuned with the Cosmos, every time Eric and everyone on staff at PW give to us.
Planet Waves' investment IS in us, so I invest in them!
Planet Waves (ISSN 1933-9135) is published each Tuesday morning and Thursday afternoon in Kingston, New York, by Planet Waves, Inc. Annual basic subscription rate: $97/year. Core community membership: $197/year. Editor and Publisher: Eric Francis Coppolino. Web Developer: Anatoly Ryzhenko. Office Manager: Lauren Gdovin. Astrology Editor: Amanda Painter. Astrology Fact Checker: Len Wallick. Copy Editor and Fact Checker: Jessica Keet. Client Services: Amy Elliott, Lisa Gatto. Media Consultant: Andrew Marshall McLuhan. Research, Writing and Editing: In addition to those listed above, Planet Waves is produced by a team consisting of Fe Bongolan, Judith Gayle, Kelly Janes, Amanda Moreno, Carol van Strum, Len Wallick, Lizanne Webb and Chad Woodward.

Capricorn Full Moon: Turning the Tide
This Wednesday, July 1, is the Capricorn Full Moon. The Moon opposes the Cancer Sun, and we get a peak of energy. The Full Moon is exact at 10:19 pm EDT (02:19 UTC July 2).
This Full Moon (across a water-earth axis) coincides with lots of action in the fire signs. Venus is approaching its conjunction to Jupiter, which is exact a few hours before the Full Moon. Venus-Jupiter for its part is trine the Uranus-Eris conjunction in Aries, and also trine plenty of activity in Sagittarius, most notably Pholus (small cause, big effect).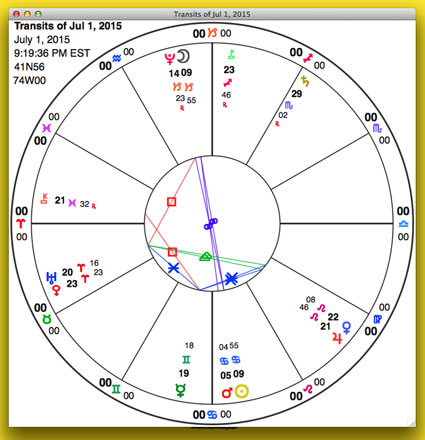 Capricorn Full Moon, showing planets in the aspect pattern, plus Saturn. Note, the kite pattern is not visible in the middle of the wheel. Just start with Mercury and then trace the grand fire trine and you'll see the kite-shaped pattern. Note, the time stated in the chart is EST, not EDT — but the chart is still accurate. Here is a glyph legend.
This fiery astrology lays a hotbed background for the Full Moon, and it's bristling with potential. These fire planets want to release their energy; they want to go somewhere and do something. The Full Moon is going to bring that energy to a peak and precipitate something unusual. I'll come back to that in a moment.
Mercury is in an interesting position — it forms what's called a kite pattern. In other words, it makes sextiles to two sides of the grand trine. Mercury, so recently involved with that endless square to Neptune, is now processing a lot of high-vibration energy. In addition to aspecting the whole grand fire trine, it's also square Chiron.
That's a caution — Mercury-to-Chiron aspects can feel like you don't know, or like you don't have enough information; they can be the cause of significant self-doubt of the "I'm stupid" kind. This is not true — you know much more than you think. To get access to knowledge, you just have to think about what you know. That part, you cannot escape.
Also in this chart is Saturn in the last degree of Scorpio, at the start of its last 90-day visit to that sign before embarking on more than two years in Sagittarius. As mentioned in last week's edition, Saturn is making a diversity of aspects, which describe a kind of struggle to get unstuck. It seems to be coming up against some kind of self-imposed delay, yet at the same time is under pressure to move more quickly or suddenly.
The key with this Saturn is going to be consistent, gradual persistence. There's a subject here that needs to be discussed, first as an inner matter then as a relational one. The strange and powerful opposition between Saturn and Admetus (a hypothetical planet, without a body), is talking about the nature of inertia.
What is it about humans that their personalities are so intractable? Thought is the most flexible substance in the universe. Why does it seem so rigid? The peaking of the Sun-Moon cycle is going to give these things a push.
As for that Full Moon: it's conjunct Pluto, for one thing. It's also opposite Mars in Cancer. There is a Mars-Pluto opposition building. This Full Moon will give you the opportunity to defuse and diffuse that tension before it happens. Mars opposite Pluto is one of the more typical indicators of power struggles. Is that really necessary?
Power struggles seem to be more about emotional overreaction than anything else. This Full Moon will light up your relationship dynamics and give you a chance to work things out. You might say it's an invitation not just to turn with the tide, but to turn with the changing tide.
We will have more details on next week's Planet Waves FM and in the Tuesday letter.
— Eric Francis Coppolino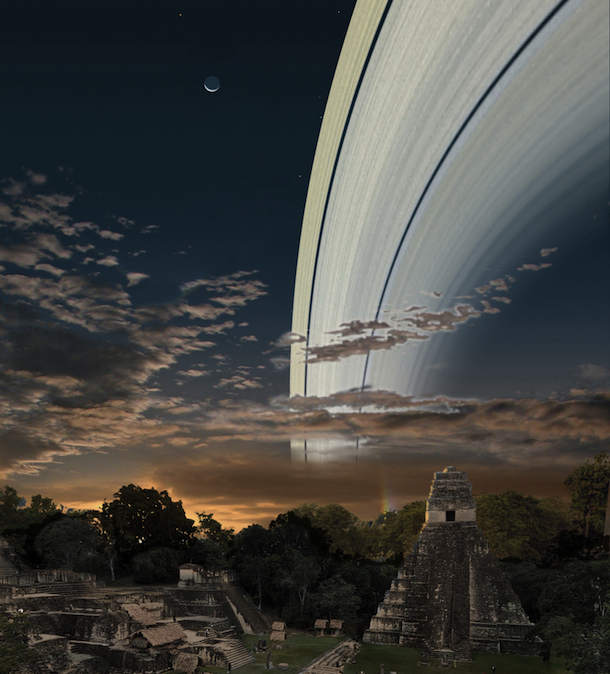 From Guatemala, only 14 degrees above the equator, the rings would begin to stretch across the horizon if Earth had Saturn's rings. Their reflected light would make the Moon much brighter. Image by Ron Miller.
The Ring of Truth in Rings of Fancy
By Amanda Painter
With retrograde Saturn back in late Scorpio for a while, you may find yourself facing unfinished business along Scorpionic themes: sexuality, money, deep emotional transformation — and the personal and collective laws that govern these areas of your life. Could be you're diving into the process with gusto; or maybe you've been dreading whatever Saturn is dredging up.
In either case, here's a little Saturn-themed offering to help you come up for air before you dive too far into the watery depths. Illustrator and author Ron Miller is a specialist in scientifically accurate renderings of many parts of our solar system that cannot be viewed with the naked eye. Among his creations: images of the surface of Titan, Saturn's largest moon; and the insides of black holes. He even designed a postage stamp of Pluto, which is traveling toward that planet on the New Horizons spacecraft (scheduled to arrive there July 14).
But Miller's photo-imaginings of what we might see if Earth had Saturn's rings is the real draw. Available are views from Washington, D.C., the Tropic of Capricorn, the equator, and more. After all: astrologically speaking, Saturn exists here on Earth each time we build something, act with authority, or lay down the law. Make its processes your own, and you might even find yourself enjoying its benefits. Eventually.

Planet Waves :: The Art of Service
In this week's edition of Planet Waves FM, I introduce Planet Waves as practitioners of the Art of Service. I describe our community and our mission, and share something of the history of Planet Waves. The music is two selections from The Grateful Dead — Sage and Spirit, and Eyes of the World, two masterpieces by different writers in the group.


Your Monthly Horoscopes — and our Publishing Schedule Notes
Your extended monthly horoscopes for July are published below in this issue. We published your extended monthly horoscopes for June on Thursday, May 21. Your Moonshine horoscopes for the Sagittarius Full Moon were published Tuesday, May 26. Please note, we normally publish the extended monthly horoscope on the first Friday after the Sun has entered a new sign.
Planet Waves Monthly Horoscope for July 2015, #1055 | By Eric Francis
Aries (March 20-April 19) — By now you've figured out that you have to break a few rules to get anything done — and it certainly seems you have plans for what you want to accomplish. Here are some guidelines for breaking rules: First, make sure you try the conventional channels and methods first. This includes knowing what rules or guidelines you're expected to follow. Then, your next strategy would be to negotiate. See if you can engage others in a give-and-take process where your mutual interests are supported. Your astrology is suggesting that you have significant room to alter some important agreement, particularly one that you entered within the past two years. In fact, your astrology suggests that tuning up this contract or understanding is a high priority, and the sooner you get to it the better. All of that said and done, you might have to bend the rules to accomplish something. If so, stick to rules that are somehow contradictory or vague. Make sure you understand the consequences of your actions. And if possible, be subversive. Avoid direct challenges or any show of bravado. Most of all, be fair. Do what you need to do, at minimum, and skip the extras. Right now, psychology is your most useful tool. You're well positioned to assess where others are at, and you have every right to put that information to good use.
Taurus (April 19-May 20) — You seem to be stretching your creative capacities. There is some bold adventure ahead of you, and you will be reaching for it in many different ways in the coming months and into the coming year. This is healthy; and as you know, it's long overdue. Your chart suggests you're venturing in the direction of taking sincere risks and accepting uncertainty about what you're doing and how it will be received. This suggests declaring your freedom from expectation and predictability. Even if you don't consider yourself an artist, this is how you'll be living for a while. And this entails one special fact: you might get to the place where your creativity seems to run out. This is something you could consider an authentic initiation. You will have several options; the most viable one seems to be going back to the source of your inspiration. Yet, in any event, you will need to take chances. You will need to be open to revision. You will need to address the nature of what it means to be stuck creatively, so that you have dependable ways to get out of that place and back into the flow of your ideas — and of your life. On some level the topic of sex is related. In order to be fun and nourishing, you need to take your eroticism beyond familiar territory. That is the story of your life.
Gemini (May 20-June 21) — You've been spun around so many times the past couple of months you may be completely disoriented, and have no idea what to believe. Of course you've learned a lot along the way, at least by process of elimination. You can cross a good few things off your list of what to worry about, or wonder about. You have a much clearer sense of who you can trust. Yet still, all of this has been leading you to a decision, and that time has arrived. You now get to make up your mind. There's a commitment involved in this, and you may feel pressured to make an affirmative statement when you're still facing some doubt or hesitation. Yet is your uncertainty valid? Do you really lack any necessary information? Go over your facts carefully. Account for what you want to believe, but understand that your belief could be unfounded and warrants investigation. Make an inventory of everything you don't know, and then start to answer your own concerns. What you may discover is that the thing you're really doubting is your own thought process. Yet your perceptions and assessments are sharper than you may think. The only thing you have to watch out for is the distinct feeling of wanting something to be true. That is your indicator of caution. Take a balanced approach. Be as objective as you can. What's true is true. What is not, is not.
Your 2015-2016 Cancer Reading
To Achieve the Most, Take Care of Yourself
Dear Friend and Reader:
The sign Cancer is associated with food, emotions, nurturing and bubble baths. Yet the astrology influencing your sign is about some stunning achievement. Your focus is being drawn ever-outward into the world, and if you have not noticed it yet, you will be soon.
There is a conjunction coming — Uranus conjunct Eris. Technically it's exact in 2016 and 2017, yet it's influencing you now, calling you to take action and perhaps even summoning you to shake up your world. For a long time you've been itching to do something bigger, more significant, more bold.
It would be an understatement to say that this describes a breakthrough of some kind. Note that no astrology has happened like this in our lifetimes. The last time this aspect took place was in 1928!
This conjunction is developing in the most outgoing, dynamic house in your chart — the 10th. That's the one associated with career, reputation and what you achieve in the world. The planets are putting you on notice that your life is developing in some bold and positive ways.
Going well beyond career, this astrology describes your overall role in the world, as a leader, as a creative force and as one contributing to solutions.
I am about to prepare your 2015-2016 birthday reading. I'll be recording a clear, practical guide to working with your astrology over the next four seasons. In that reading, I will read this aspect that guides you to toward some unusual success.
Yet there's a cautionary note here — about the need to keep a clear focus on your home life and your relationships. Simply put, you can accomplish great things, if you take care of yourself.
My Cancer reading will help you do just that. I will offer you a complete picture of your astrology, which looks at your life holistically. I'll remind you of the many facets of who you are, all of which add up to the whole person that is you. The key to this astrology is drawing on every facet of your creativity, strength and intelligence.
Cancer (June 21-July 22) — This month and for the next few months, diligently apply yourself to enhancing your income. The key to doing so will be to understand the value of your work, your time and your intelligence, and connecting that with opportunities that seem to be waiting for you. What may surprise you, however, is how direct you need to be to materialize things. By direct, I mean having clear intentions, which you put into clear ideas, and then speak to others directly. This may seem confrontational to you, and in a way any clear transaction is — even if it's also amicable. I suggest you err on the side of being forward and stating your terms quickly. But this will only work if you're absolutely self-assured of what you're doing and its actual worth to others. This you must estimate carefully, and know your facts. Do not guess. Work out your reasoning carefully and be ready to answer questions. You may never need to reveal any background data, though it will boost your confidence to know exactly where you're coming from. In order to really succeed, your efforts need to be scalable. Part of what you'll be learning is how to get results that are, at first, in proportion to your efforts, then which exceed your efforts. You may have qualms about the concept of profit; if so, I suggest you let go of them promptly.
Leo (July 22-Aug. 23) — Venus and Jupiter in your sign are reminding you that you have only to gain by daring to be yourself. Allowing yourself to exist openly and freely will draw to you much of what you are seeking. Yet there also seems to be some appeal or temptation for you to conceal your true essence — to hide yourself, your talent, your feelings. These conflicting impulses may seem like you must maintain a dangerous balance of some kind. I would propose, however, that your fears are speaking louder than is appropriate, and that you may be giving them more attention than they deserve. Ask yourself what you think you have to lose by asserting yourself in a bold and beautiful way; by really daring to live. Could it be some concern that any gains you make, any progress, any blossoming of yourself, is transient? That you could come into possession of something that you then have to give up? That to do anything on Earth, you must reckon with that thing ending? It's worth considering this, even if only as a thought exercise. At the moment, your charts suggest that you are at an early stage of discovery, and of gathering your creative gifts into true strength. Meanwhile, work with the idea and the feeling of transience. It's essential to let go, to move on and to willingly embrace the unknown.
Virgo (Aug. 23-Sep. 22) — You're working toward a discovery that will change the course of your current life. It looks as if you'll get evidence of something that you were not sure was even possible — even something you may have never considered. Yet you will have tangible proof of what you're capable of, which I suggest you take to heart. That is to say, accept and make friends with what amounts to a giant clue about yourself, while you're holding it in your hands. Then over the next few months, you will be invited into a process of refinement. You may determine that this clue was just a statement about your potential, and now you're faced with the responsibility of making that potential into something real and lasting. While you do this, you'll have the distinct advantage of knowing that you're not guessing at what you're capable of. Yet the mind works in strange ways, and it's always possible to deny something even when you have tangible proof of its existence. I suggest you not fall for this game. Allow in no doubt, and remind yourself of your capabilities. It will help if you assert your leadership skills in some way. If you find yourself in some circumstance that demands you bring your talent forward, you will thrive under the pressure and have no choice but to affirm your gifts and debunk your doubts.
Libra (Sep. 22-Oct. 23) — Venus, the planet associated with your sign, stations retrograde later this month. This describes you in a position of greater visibility and contact with the public. Yet it appears to be pushing the question of how much exposure you want; how well known you want to be. It might seem like putting your work out in public is really like baring your soul. Are you ready to face any scrutiny that you may encounter on the way? Yet, if you peel back the question, you may discover something a bit startling. It seems like there's one thing in particular you're afraid people will find out about you. You might be cloaking this with a diversity of concerns unrelated to the core issue. That, in turn, could be creating interference with getting your work done, which no doubt involves some contact with the wider community. If you get to the root of the matter, it will be possible to actually do something about it. So I would ask, what is this one fact about yourself that you positively dread people finding out? It could be some element of your history, some doubt, some association you have. You might be trying to hide something that a parent or grandparent was paranoid about. Figure out what this is, give it a name, and then try something daring: tell the world.
Scorpio (Oct. 23-Nov. 22) — Saturn is back in your sign for a brief visit. It spent two years with you from late 2012 to late 2014, putting you under some pressure to get real and grow up. This was essential. Scorpio is a water sign, but it's not the one that's known for its ability to flow easily. Therefore, these phases where you're confronted with necessity are vital to your growth and progress. Now Saturn is calling on you to clean up some longstanding issues involving partnership, particularly if some kind of contract is involved. Look for the nexus where sex meets money — for example, household partnerships; relationships with ex-partners where finances are still involved; work relationships where there's an erotic component. You're likely to be confronted by some element of the relationship that seems stuck or intractable. What you're really meeting up with is the aspect of yourself that resists change and flow, and therefore progress. This might have the potential for a head-on collision, when in fact what would benefit you the most is to understand the nature of your own resistance. Is it necessary to push back so hard against potential movement? Is it necessary to hesitate as a way of life? You owe yourself better than struggling with the flow of creativity, pleasure and money through your life. You can now make some progress working this out.
Sagittarius (Nov. 22-Dec. 22) — You are being offered a vision for your life — something that's both far-reaching and wide. You may have the feeling that what you're thinking is too idealistic or impractical, though over the next few weeks you will get some proof that it's really neither. It is, however, your lot in life to be the person who connects your dreams to some tangible plan of action. Though Sagittarius has the reputation for being broad-minded and unconcerned with the details, you know by now that you must attend to the specifics if you want anything to actually happen. You cannot just hope for the best or leave things to others. That said, the translation from your vision to what actually manifests may involve a scaling down of your total vision. This is temporary. What I'm seeing is an exercise in prioritizing the most important thing you want to accomplish, and then breaking that down into steps and making it happen. This is merely a prototype. Pay close attention to what you're doing, how you're doing it and what gets results. Learn the method while you're developing that method. For example, if you want to record an entire CD, start with getting one song right. If you have an idea for a novel, do it first as a short story. This will give you a sense of accomplishment on many levels. Then have faith — bigger things are on the way.
Capricorn (Dec. 22-Jan. 20) — You have the strength of your convictions — but as Robert Anton Wilson said, convictions make convicts. What would benefit you and close partners the most is your flexibility — such as working with options rather than all-or-nothing scenarios. You will benefit from having alternatives around the timing of certain things you want to happen. And it includes taking an open-ended approach to resolving apparent conflicts. While there may be some sparks flying, most of the friction is coming from inside of you. For the next couple of months, your ruling planet Saturn is making a final return to Scorpio before moving on to Sagittarius for a two-year stay. This shift is helping you see all that you've left unsaid. This includes the implications of information you've gathered that you have not taken fully on board, much less shared with others. You are entering a time in your life when you can afford to have no secrets — by which I mean no secrets in intimate situations. Indeed, your willingness to reveal yourself is the measure of your desire to be close to others. When you find yourself stockpiling information for future use, you can be sure that you're preparing for an unnecessary confrontation. You have so much to offer, and so much to receive. An open heart and an open door are the only way to share in the beauty of life.
Aquarius (Jan. 20-Feb. 19) — You have some unusual relationship opportunities available to you. This is true even if you're in a committed partnership. You might, however, begin by assessing the extent to which your idea of commitment is a hedge against allowing unscripted events to unfold. The very thing you want is what's unplanned and unpredictable. I know that kind of thing can send waves of panic through people these days. You can look at that and see how ridiculous it is — or you can play along. In any event, if you're wondering where any energy blocks are lurking, it's around the necessity for expected outcomes. Hold open your possibilities and you will see your life begin to flow in new directions. Enter every situation with a sense of adventure, and appreciate the fact that you have no idea how it's going to turn out. That's your best friend right now. This is especially true in some situation that is calling for your leadership. It's probable that this scenario goes back about two years. You now have to wrap up the final steps in a process, which must be completed before you're really free to move on. You have your work cut out for you, but make sure you're specific about what needs to be done, for whom, and by when. You are not in an open-ended commitment; to the contrary, you are now embarking on the real work of completion.
Pisces (Feb. 19-March 20) — Make the most of every situation in your life. Make the most of every day. Involve yourself in what you do with full commitment. As you do this over the next few weeks, certain people and scenarios are going to have the sensation of opening the way to the future. There are no guarantees, but you will feel that resonance, and it's worth noticing when you do. Meanwhile, the personal security question that has been nagging you the past two months or so is now coming to a head. You have a decision to make about what is really in your best interests. Before you get there, you have to decide what your best interests really are. This would be a good place to pause, so that you give yourself some time to assess your priorities. You're at one of those junctures where you must update your files and make sure that every goal you have is really something you still want. Don't be afraid to decide that something is no longer working for you. Be bold about what options you have to get things working better. Through this process, you will need to be responsive to your own inner feedback. More than that, keep your focus on your creative and erotic impulses. They contain the most valuable information about what you want, and what actually offers you some grounding and stability. Remember: Listen to yourself.