A time-honored strategy sometimes utilized in football and some other sports is often called a shift. It happens when the players (often on both teams at once) line up in a particular formation, then shift to another formation just before the play begins. It is an attempt to disrupt the opposition in order to gain an advantage.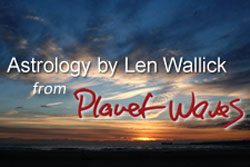 Shifts work for two reasons. First, each formation has weaknesses as well as strengths. Hence, based on what they expect to encounter, teams make plans in advance. Shifting from one formation to another compels the opposition to adjust their plans.
The other reason to use shifts has to do with time. The opposing team usually has precious little time to make an appropriate adjustment of its own in response to a shift, increasing the possibility of being caught off guard mentally or off balance physically.
Over the next handful of days, the sky will demonstrate a shift of sorts. It will be a more pronounced and comprehensive shift than is usual for such a short period of time. You need not fear it. The objects involved are not opponents seeking to defeat you. They are simply large chunks of matter moving in their respective orbits as they always do, but shifting to a different formation in relation to each other.
It's a matter of information and its interpretation. The solar system is just that — a system. In any system one part or combination of parts will constitute information. That information, if properly interpreted as part of a greater whole, will provide data about any other part of the system (including you) and the system as a whole. Astrology is simply a method of interpretation that makes correlations with your life on Earth.
Those correlations in turn can be combined with other forms of information you use every day in order to evaluate your options and make decisions. Right now, a straightforward correlation would indicate that you should consider at least initiating some shifts of your own either to gain an advantage or to adjust appropriately to shifts going on around you, beginning this weekend. As a matter of fact, it appears as though there will be several shifts to be initiated (at least) between now and Tuesday.
It all begins with Mercury leaving Leo behind and entering Virgo tomorrow shortly before 3:15 pm EDT (19:14:43 UTC). Among other things, Mercury corresponds with your mind and its means of communicating. Such earthly correlations with Mercury tend to function very well while Mercury is in Virgo. Hence, you might want to shift into a more communicative and thoughtful way of doing things, at least until Mercury leaves Virgo for Libra on Aug. 27.
The shifts continue over the weekend. Overnight between tomorrow and Saturday (for most of you), the Moon moves from Taurus (where it is today) and into Gemini. Later on Saturday (shortly after 7:32 pm EDT, or 23:32:09 UTC) Mars leaves Cancer behind to enter Leo.
The Moon changes signs every two or three days. Hence, lunar shifts do not usually correlate with major changes. It's more of a rhythm thing, like shifting your weight to the appropriate foot at the right time.
Gemini is the other sign (along with Virgo) where Mercury is strong. By implication then, simply knowing about Mercury entering Virgo tomorrow can help you get off on the right foot with the Moon (and its correlation with your emotional side, among other things). You can start your weekend knowing that some of what you will want to communicate will probably involve how you feel as well as what you think.
Mars, on the other hand, will remain in Leo until Sept. 24 (or Sept. 25, depending on your time zone). As a result, you will have more time to make or initiate a shift in your life that correlates appropriately with how Mars (forms of energy and the issues of desire, among other things) expresses in your life. By the same token, however, the consequences of shifting (or not) will last longer.
Additionally, you might expect earthly manifestations of Mars in Leo to express more strongly and in a more straightforward manner than in Cancer. Assuming that expectation is accurate, your implied role (at first, anyway) will be to govern your personal desires and energies more thoughtfully by integrating your awareness of Mercury's shift to Virgo.
Finally, on Tuesday, Jupiter shifts from Leo into Virgo where it will wander around for about a year, amplifying the situation represented by the shift of Mars. In other words, Jupiter's shift will probably correspond with more time to adjust, offset by a longer process of change and more enduring consequences.
As a planet, Jupiter also correlates with more complex and interactive subject matter than the 'personal planets' (Sun, Moon, Mercury, Venus and Mars). Therefore, this weekend will also be an appropriate time to anticipate and make plans regarding where you fit in with others.
Just as with the Moon in relation to Mercury (and Mercury in relation to Mars), however, you can make a good start adjusting to Jupiter's impending new tenure by realizing that all you do this weekend will set a pattern. This pattern will either get you off on the right foot with Jupiter in Virgo, or require you to make further adjustments over the next 12 months or so.
Hence, for this weekend at least, think. Think and communicate both your thoughts and your emotions equally, and while doing so be aware. Be aware of the energetics of your communication and whether those unspoken energetic signals coordinate with your desires. Proceed with a sure and certain knowledge that your every act will also be amplified in your future.
Offered In Service  
Len is available for astrology readings. You can contact him at lenwallick [at] gmail [dot] com.