Most of us are born with two eyes that coordinate with each other to provide an accurate picture of the world. One affliction that interferes with quality of vision is called strabismus, wherein the eyes do not align properly. An extreme example of strabismus is crossed eyes, which cause double vision.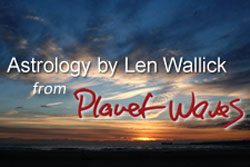 Nearly all of us have had occasion to cross our eyes on purpose in an expression of jest. Involuntary double vision, however, is no joke for those who have to live with it.  
Thankfully, medical science has developed ways to correct most cases of strabismus. It was not always so, however. For most of human history, those beset with double vision had to rely on the ability of the human brain to compensate for dysfunctional eyes.
One way the brain compensates for double vision is by ignoring the input of the deviated eye, but at the cost of depth perception. The result is one form of distortion unconsciously exchanged for another. Given the state of the world at this time, it would be accurate to aver that nearly all of us are vulnerable to (if not clearly burdened with) a metaphorical form strabismus. It's also fair to say that the times are being reflected in the astrology.
The sheer volume of information coming at you is enough to cross your eyes all by itself. Astrology's corollary to information (and your mind, among other things) is fast-moving Mercury.
Then, factor in the probability that a large volume of data you receive is intentionally slanted in spite of any claim to be (for example) "fair and balanced." Finally, layer on the studied and tested manipulative psychology employed by the political, entertainment and advertising industries, and it's a wonder you can function as well as you do.
One way you and most of the rest of us remain functional in the midst of media onslaught is to be selective about exposure to information. Shutting out, avoiding and otherwise ignoring that which conflicts with or distresses your point of view, however, has its own problems. Even new evidence, when admitted, is commonly interpreted to confirm what you already believe (a tendency known as 'confirmation bias').
Confirmation bias is an occupational hazard for astrologers. In an effort to overcome personal prejudice, astrologers often defer to and rely on traditional forms of interpretation. Even then, astrology can at times present a confusing picture, which, ironically, is often an accurate representation of what's actually going on.
One could make a case for now being one of those times. Tellingly, one of the planets most emblematic of these times is Neptune in the sign it rules — Pisces.
Neptune is not to be underestimated. As the great Robert Hand put it, Neptune correlates with what is "confusing and unclear" at least as often as it corresponds to "extremely beautiful and ideal influences." Up until about five years ago, when Neptune entered Pisces for the first time in a century and a half, nobody (nor their parents, nor even their grandparents) had any experience of living through an era of Neptune implicitly being amplified in Pisces.
Indeed, the world is still influenced by both the distorted thinking (Confederate flag and such) and inspiration (Thoreau and his contemporaries) which originated the last time Neptune passed through Pisces — basically from 1849 to 1862. Additionally, Neptune, along with complex and nuanced Chiron, is currently retrograde in Pisces, symbolically adding to the potential for confusion.
Further contributing to the potential for confusion is Saturn, astrology's lord of order. Saturn is in a transitional year, spending most of 2015 slowly oscillating over the cusp separating two very different signs: Scorpio and Sagittarius. Even though Saturn is no longer retrograde, it is still in the same degree of Scorpio it occupied on July 4, indicative of little (if any) progress in bringing any semblance of order to your life or the world as a whole.
Finally, Uranus (which a normally circumspect Robert Hand recently referred to as "a crazy planet") is also retrograde in Aries. At the same time, the ruler of Aries (Mars) is actually moving faster than Venus, which hardly ever happens.
Fortunately, just as medical science has its remedies for strabismus, astrology has its antidote for confusing times: patience. Everything in the sky and on the zodiac is constantly moving. As a result, no one state of affairs holds forever. And just as it is above, so it reliably is below.
In our current case, the dominant role of slow moving planets (Saturn, Uranus and Neptune especially) in fast-moving times implies that you need to be more patient than perhaps at any time in your life. The good news is that a light is visible at the end of our proverbial tunnel. Next month, Saturn will settle into Sagittarius for a long run of more than two years. After September, the eclipses of 2015 will be over, and by mid-October all the Mercury retrogrades for the year will be behind us.
Indeed, things might actually get a little boring later this year. Once you are able to see things more clearly, the stark nature of a less distorted reality might seem somehow less interesting. So, make the best of confusing times while you have them. Allow for your probable double vision to contribute to your creativity and stimulate your imagination while you still can, just so long as you are aware that seeing and believing are not what they used to be.
Offered In Service                   
Len is available for astrology readings. You can contact him at lenwallick [at] gmail [dot] com.