Venus enters tropical Sagittarius at 2:03 pm EST (19:03 UT) on Sunday to begin what promises to be a revealing tour of mutable fire that lasts until Dec. 10. Venus traverses Sagittarius once a year, so it's not a big deal all by itself. This year, however, the transit has auspicious implications.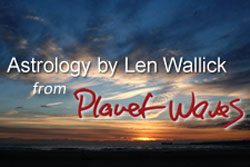 There will be no attempt at prediction here. Divination is not the highest, best use of astrology. Rather, astrology reveals itself best as a tool for awareness. The most important awareness astrology can provide is a revelation that you are not alone, but rather part of something really grand: our solar system.
Additionally, astrology indicates that your part is important — that you are important. Your presence here makes a difference. What's more, the sort of difference you make is for you to choose. Astrology, therefore, helps you choose with awareness.
The options and choices probably about to be revealed for you as Venus moves through Sagittarius this year are implicitly propitious on several levels. The first being the difference between how Venus expresses itself through Scorpio (where it is winding up more than three weeks of intense focus that began with a concurrent solar eclipse), versus Sagittarius.
Venus in Scorpio suggests going deep within yourself to feel and appreciate your values, a good thing to do. While Venus is not particularly dignified nor debilitated in Sagittarius, it is inherently more buoyant in comparison to what astrologers call its "detriment" in Scorpio, which is defined by the fact that Scorpio opposes Taurus. Taurus is one of two signs (along with Libra) where Venus is the ruler.
Amanda eloquently hinted at as much in her blog earlier today where she wrote "It really comes down to empathy, or being willing to see things from another's point of view, to avoid abusing power. Come Sunday, Venus will help with that as it leaves Scorpio and enters Sagittarius."
Yet, the shift from a deep dive within to a more buoyant empathy informed by taking others into account is part of every more-or-less annual ingress of Venus to Sagittarius. This year, astrology indicates there is a sense of even more to be revealed as a result.
The sense is how a deeper consciousness of your own values can reveal something of your wider value to others. It's about understanding that you are valuable beyond price, and how behaving as if you are (because you are) can make a huge difference in both the quality of your life and outcomes for the rest of world.
The astrology behind the quality of Venus in mutable fire this year involves a great quantity of aspects, from the very first day. Those aspects continue through the entire transit of Sagittarius, where Jupiter is the ruler.
But this is where awareness comes in. Both Venus and Jupiter inherently offer choices between quantity and quality. In nearly every case, choosing quantity reveals excess. Whereas choosing quality offers discernment.
So, just as with predictions, the complex set of aspects Venus will make on Sunday and for the three-plus weeks to follow will not be enumerated here today. Rather, you are encouraged here to hold a bigger picture in your heart and a greater vision in your mind going into the weekend.
Begin with Amanda's adroit and cogent perception of how these next few days are about generosity and empathy, and let the options and choices you face next week reveal themselves if you will but follow her advice. Suffice to say you are being given options and choices in the near future to be more important than even those you consider most exalted.
Indeed, if Venus in Sagittarius this particular time around means anything, it's that the most conventionally powerful people and entities in the world are steadily losing power. Furthermore, through some sort of conservation, that power is not simply evaporating. Instead, it's being conferred upon you.
Hence, while this has not been an easy year to live through, we need your will to live. We need you to be living consciously. We need you at your best. Up for it? Please begin to reveal your own highest potential by simply saying yes.
Offered In Service
Len is available for astrology readings. You can contact him at lenwallick [at] gmail [dot] com.