Aries (March 20-April 19) — Don't be surprised if the new Saturn-in-Capricorn era commences for you with a burst of creativity and inspiration. It's possible this may involve an idea already conceived within your depths, which you are now presented with an opportunity to make manifest. This process over the next couple of years is likely significant in terms of your personal development; so trust yourself, and (saving the necessary precautions attending Mercury retrograde) don't hold back. — by Amy Elliott. For your Eric Francis horoscope this week, please see this link.
Taurus (April 19-May 20) — After an extended period of self-reflection and internal transformation, it would seem you're about to embark on a spiritual mission with a more outward focus. You might not feel quite ready for this, or there may be a certain risk that you fear. Yet you're also gradually becoming aware of how important this opportunity could be, and that this is indeed the season. I suggest that for now you simply go along with the current. You're made of far sterner stuff than you often give yourself credit for. – By Amy Elliott. For your Eric Francis horoscope this week, please see this link.
Gemini (May 20-June 21) — A sudden alteration in a partnership, or a charged interaction with someone, may precipitate an extended look at the way you respond to certain situations, and how you view yourself and others. You may already be aware of how we sometimes project our own traits onto the people around us. Likewise, we tend to seek solutions in the external world, when the real key lies somewhere within us. Someplace in your life, a mirror is now being held up to you. Take courage and gaze deeply. – By Amy Elliott. For your Eric Francis horoscope this week, please see this link.
Cancer (June 21-July 22) — Saturn entering your relationship house may afford this area of your life some added stability. It might not look that way, initially: it's likely that you'll first need to alter your perspective in some way, potentially tackling a belief that's been long-held. As is often said on Planet Waves, relationships really need a job: the connections we share are at their best if everyone involved is growing as a result. You may need to select with care the people with whom you choose to spend time. – By Amy Elliott. For your Eric Francis horoscope this week, please see this link.
Leo (July 22-Aug. 23) — Just now you appear to be on the threshold of a rare, precious and powerful creative moment. What makes this so unusual is that, almost as soon as the inspiration comes, you'll probably have the means to begin making it into something concrete and lasting. Seeing the whole project through will likely require a good deal of hard work and persistence. That should be easy enough for you, as long as you're patient with yourself and place the emphasis on quality over speed. – By Amy Elliott. For your Eric Francis horoscope this week, please see this link.
Virgo (Aug. 23-Sep. 22) — Saturn entering your realm of creativity is likely to help you transform your artistic endeavors and raise your game to another level entirely. Yet just now you're dealing with a specific challenge — from the remnants of former days — that has recently been haunting you. This almost certainly has to happen before you can proceed to the meat and potatoes, and it has to do with reclaiming your self-confidence sufficiently to be of one mind. Somewhere within you is an understanding of your true capability. Seek it out. – By Amy Elliott. For your Eric Francis horoscope this week, please see this link.
Libra (Sep. 22-Oct. 23) — Something about your experience of family life or of your past is probably going to change in a profound way over the next few years, especially in terms of how it usually plays out in the present moment. You'll likely be throwing off a habit or two that no longer serves you. What eventually replaces it is up to you. You might consider steering in the direction of real self-acceptance. It's time you embrace who you are with all your desires and dreams, and kick out any imposed shame. – By Amy Elliott. For your Eric Francis horoscope this week, please see this link.
Scorpio (Oct. 23-Nov. 22) — With Saturn in your third house, you seem poised to learn gradually to become more vocal about who you are and what you really desire. This would begin with you: that is, admitting your feelings to yourself; then with a partner, or someone you can trust to hold space for you. Then you might widen the circle. Eventually you will hopefully feel confident enough to display your full self openly, in whatever medium you choose. Be gentle with yourself throughout. – By Amy Elliott. For your Eric Francis horoscope this week, please see this link.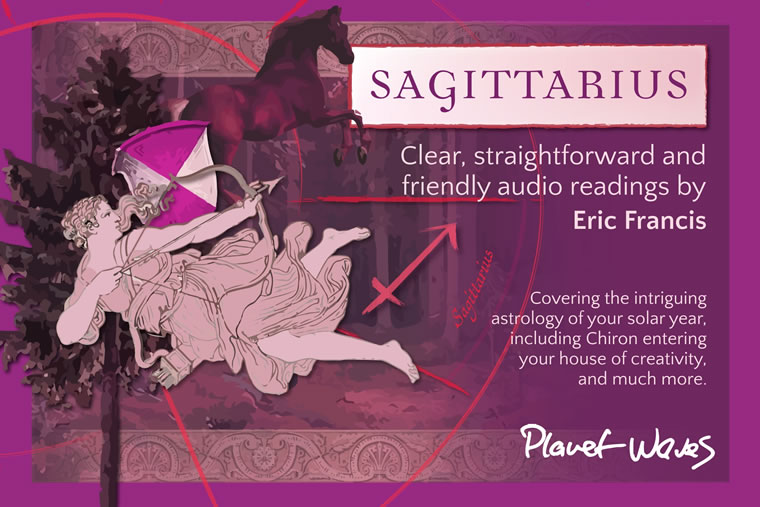 Get instant access when you order your Sagittarius Birthday Reading by Eric.
Sagittarius (Nov. 22-Dec. 22) — As we've all experienced, when you open a pressurized container, the gas or liquid inside rushes to come out. It's an apt metaphor for a decidedly common human trait: cause a person to feel trapped in some way, or forbidden to do a specific thing, and the desire to break the bonds becomes a powerful drive. Saturn finally leaving your sign Tuesday night is likely to feel like a momentous release. You'll want some time to play in the open air before getting down to business: namely, being yourself with bells on. – By Amy Elliott. For your Eric Francis horoscope this week, please see this link.
---
Capricorn Birthdays 2018



How Will You Harness Saturn?
"I continue to believe that setting goals and boundaries combined with recognizing my limits, because I thought about how I could harness Saturn, has made this the most transformative time of my life. I felt a ton of Yes energy in your words, thank you!"

— Jennifer N.
Dear Friend and Reader:
Do you tend to think of Saturn as representing the parent who stands in your way and says "No"? You can avoid that disempowering feeling by making friends with Saturn. That is, by taking on the role of authority and responsibility in your own life so that you can enjoy the benefits, growth and even freedom Saturn can grant.
If you're someone with a Capricorn Sun, rising sign or Moon, you have this opportunity on your doorstep: Saturn enters Capricorn on Dec. 19. Eric will be covering the opportunities, challenges and essential mission of Saturn in your sign for the next three years or so in your 2018 Capricorn Birthday Reading.
But that's not all: Chiron moving into Aries and Uranus moving into your fellow earth sign Taurus will also bring important shifts to your inner landscape and to the world around you. Yet those are only the major planetary sign changes that are happening soon; Eric also homes in on the subtler astrology you'll be navigating in the coming year.
"Your passion, deep care and love always shine through; and you have the gift of all great teachers, of making one feel that one is being personally addressed, respected and taken care of."

— Liz Glanville
All of this is offered in a pro-quality audio-recording bundle: two segments of astrology (approximately 30 minutes each), and then a tarot reading for your year that will be ready a little later. When you pre-order your Capricorn reading, you secure the lowest price we offer: only $33 for the entire three-part reading. This price increases as we near publication, and then it increases again when it's ready.
You get some of the clearest, most nuanced and jargon-free personal astrology available on the internet. Eric crafts these readings with the best of his life-coaching, cheerleading and problem-solving skills; the sensitivity of his therapy training; his uncanny knack to help you see challenges from a more empowering perspective; and with the kind of everyday, practical inspiration you can use immediately.
How will you harness Saturn to make the coming year one of your most dynamic to date?
Yours & truly,

Amanda Painter
P.S. The 2018 Capricorn Birthday Reading is distinctly different from the Capricorn written reading available in the upcoming Art of Becoming annual project. It covers your key astrology in a different format and emphasis, capitalizing on Eric's more intuitive, improvisational skills. The Birthday Reading also makes a fantastic gift for a loved one!
---
Capricorn (Dec. 22-Jan. 20) — Chances are you already have a pretty clear understanding of how far you've come in the past few years, though that might have been hard to see while in the midst. Now you're finally emerging into a new phase of existence. I don't really need to suggest that you keep in mind what you've learned, because you know the lessons are too important to forget. I will only say: don't be afraid to express the person you have become. The world needs the example of your wisdom and integrity. – By Amy Elliott. For your Eric Francis horoscope this week, please see this link.
Aquarius (Jan. 20-Feb. 19) — Having hosted Pluto in your 12th house for several years, you can be confident that Saturn is not likely to make a huge commotion when it arrives. Instead, it will probably lend some structure to what may at times have felt like a somewhat chaotic and bewildering journey. You may well feel more in control of your developmental path, which is great as long as you're willing to carry on with the development. If you slam on the brakes, you're liable to skid. Remember that the key is honesty, and doing what's right. – By Amy Elliott. For your Eric Francis horoscope this week, please see this link.
Pisces (Feb. 19-March 20) — For some time now you've been grappling with the question of how your actions are received in your community, especially if you're holding yourself to the high standards you seem to maintain so effortlessly. You know that, really, the point is to continue being the best you can be, regardless of how people apparently respond. That said, you might now discover that you have, in fact, started a ripple. As it spreads outwards, it will likely gain strength and speed; and then one day, you suddenly notice the tidal wave. – By Amy Elliott. For your Eric Francis horoscope this week, please see this link.