Today's Oracle takes us to the Pisces monthly for February 6, 2006.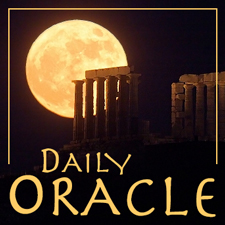 Pisces is one of the most visionary signs. But it's also one of the most fearful, hesitating and indecisive. The question you need to be asking yourself is: what do you have to lose by giving up fear? I would say you have very little to lose and a great deal to gain, in particular, peace of mind. Pay attention to what you're afraid of, and consider the possibility that every fear is based on a mistaken belief about yourself. Mistakes can be corrected and the truth can be discovered. But being positive is a habit, not an accident.
---
It is difficult to feel good these days; it's challenging to focus on your growth and self-care, or even to relax. We are pulled out of ourselves constantly, and often distracted from our core purposes. IN THESE TIMES, the Planet Waves autumn reading, will help.
CURRENTLY AVAILABLE FOR PRE-ORDER