Today's Oracle takes us to the Aquarius monthly for December 1, 2002.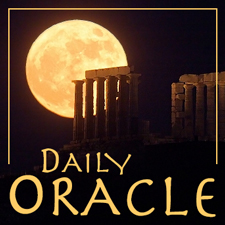 Aquarius is considered to have two rulers, the traditional (Saturn) and the modern (Uranus). Both are nearing the end of a cycle through a zodiac sign; Saturn is now in late Gemini and Uranus is in late Aquarius, and both planets will change signs next year, rather rare events. The best advice that any astrologer could offer is to wrap up current business, in preparation for a whole new reality unfolding. The second best advice would be to work with both the energy of tradition and form, and the energy of innovation and invention. Indeed, you could learn a lot from your efforts of the past year to do just that, assessing your successes and your challenges. Aquarius is often viewed as an innovative energy — the "sign of the future." But it's a fixed sign, and we both know how strong and how frustrating that fixity really can be. But the charge of the Goddess is clear: Become a master of change, for change is upon you.
---
My readings offer a place of refuge, an opportunity to suspend self-judgment, and my careful reading of the charts. I offer you reasons to be motivated, and strategies for handling the strange complexity of society at this time. To this work, I bring all of what I have learned as a journalist, editor, astrologer, spiritual student and man of the world; and I offer it to you for an affordable price. Read more here.
Now available for instant access!