Today's Oracle takes us to the Cancer weekly for January 4, 2016.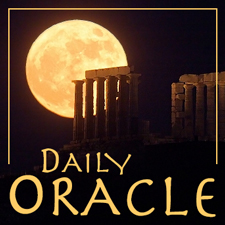 The coming 12 months promise to be one of the most ambitious and successful of your life. There will be unexpected twists and turns that will open up opportunities that would have seemed impossible a year ago. Yet at the heart of these developments is not ambition or luck, but rather the passion and devotion that you put into what you do. All your motivation must come from inside you, and there is plenty to go around. Replace any feelings of jealousy or competition with a desire for social justice; that is, for the right thing to happen for everyone. If you believe that is possible, you will find many opportunities to ease the way and make it so. Your actions and contributions have far more influence than you've imagined.
---
My readings offer a place of refuge, an opportunity to suspend self-judgment, and my careful reading of the charts. I offer you reasons to be motivated, and strategies for handling the strange complexity of society at this time. To this work, I bring all of what I have learned as a journalist, editor, astrologer, spiritual student and man of the world; and I offer it to you for an affordable price. Read more here.
Now available for instant access!