Today's Oracle takes us to the Pisces weekly for June 18, 2010.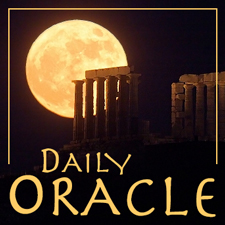 The ongoing Jupiter-Uranus conjunction has you under so much pressure to recognize your value, your contribution and like you belong on the planet that the project could easily backfire. I suggest you make a series of efficiency refinements. The first of these is to feel the logical result of these planetary signs and work backwards from there. For example: how would you feel if you were solidly confident of your place in the world, with part of that confidence being that others recognize your contribution? That's the posture you need to take: a kind of quiet assurance that may not, by the way, feel so natural for nervous, the-world-on-her-shoulders psyche of a Fish. I am proposing that the show is not going to start without you; you're the star of this particular production. Nobody can play your role, and reruns of Futurama aren't cutting it anymore.
---
The Saturn-Pluto conjunction is separating, but still strongly influencing our experience. While this event will happen two or three times in the lives of most people, this particular instance is a moment of convergence and reckoning for the world and for us as individuals.
Eric has completed recording RESPECT, the 2020-2021 Planet Waves annual readings, to cover the momentous astrology of the coming year-plus. You can read more about the project, and order the readings for instant access, here.