Today's Oracle takes us to the Leo weekly for October 10, 2003.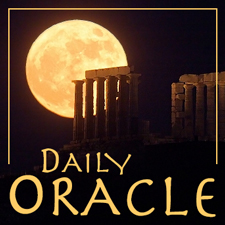 There is no security possible in this world other than love. Look at the lives of the people who are financially wealthy and have no one they actually trust, and no one they are sure cares about them. You don't need a thin dime to survive. All you need is to acknowledge and affirm the presence of the people around you, particularly those who abide anyplace you call home. It works out that those relationships will either provide or point you toward some of the more financially lucrative experiences you've known in quite a while. Focus on what resources you have to exchange. Business is based on the principle of exchange.
---
New in the Special Readings Series
Magnum Opus on Eclipses, Now Through Late 2020
Eric's new 90-minute discussion of all things related to eclipses, in any sign — with a focus on Cancer and Capricorn eclipses, from the current pair through 2020 — is available now for instant access. Part audio reading, part astrology class, it offers you a lot of help processing the solar eclipse on July 2 and the lunar eclipse on July 16, and features original music. Hear it as part of the 2019-2020 Astrology Studio for Cancer, or purchase the Eclipses Reading separately for only $33.