Today's Oracle takes us to the Scorpio weekly for February 15, 2008.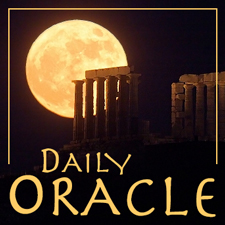 Mars has barely moved since stationing direct a few weeks ago, though what little movement there has been suggests you are working out a profound question about what you want. Desires are problematic because they always seem to have competition. It can be internal (I want that, but do I want that other thing/person more?) or external (I want that, but what does this other person think?). You seem to be going through these questions in phases that are confronting you with the split that you carry around in your mind. And herein resides the main issue. When we exist with some kind of division, it's not necessarily apparent looking from one side or the other. The time you really feel an inner division is when you're aware of both sides at once, which is uncomfortable. You're a little past the point of being able to pretend that one side or the other does not exist; paraphrasing Rilke, you need to stretch yourself across the contradiction.
---
The Saturn-Pluto conjunction is separating, but still strongly influencing our experience. While this event will happen two or three times in the lives of most people, this particular instance is a moment of convergence and reckoning for the world and for us as individuals.
Eric has completed recording RESPECT, the 2020-2021 Planet Waves annual readings, to cover the momentous astrology of the coming year-plus. You can read more about the project, and order the readings for instant access, here.