Today's Oracle takes us to the Libra weekly for November 7, 2008.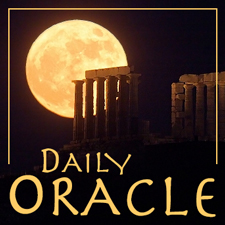 I've commented before that the current phase of your life may be arriving with a strange sense of isolation. It is not the sign of things to come — please trust that. Yet what you are experiencing now is an entirely necessary phase of your journey wherein you face something essential to the privilege of living in a body with an ego. That is the perspective that to be an individual, there is a necessary moment of renunciation of companionship; indeed, there may be many of them. There is the truth that no matter now deep we may go with someone else, our own experience is unique and cannot, in truth, be shared. Most people run from this dimension of existence. It's actually easier to dive into the core, taking with you a breath of the knowledge that the closer you are to yourself, the closer you can be to others.
---
It is difficult to feel good these days; it's challenging to focus on your growth and self-care, or even to relax. We are pulled out of ourselves constantly, and often distracted from our core purposes. IN THESE TIMES, the Planet Waves autumn reading, will help.
CURRENTLY AVAILABLE FOR PRE-ORDER