Today's Oracle takes us to the Libra weekly for May 29, 2009.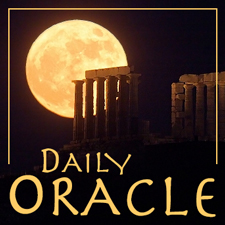 A deeply personal or business partnership has held your attention for a while. You've been right to think there is something you don't yet know. No one likes the feeling of being kept in the dark, but as the truth surfaces this week listen closely to what is being said. What you learn has the potential to change everything. A partner seems ready to go deeper and offer you the security you've been looking for, but on your part there is likely a darker past you need to let go of. You are rebuilding foundations and any rules based on past interactions need to be turned in favor of new ones. Emotionally and financially, the rewards for your patience, hope and clarity are about to start becoming a reality.
---
My readings offer a place of refuge, an opportunity to suspend self-judgment, and my careful reading of the charts. I offer you reasons to be motivated, and strategies for handling the strange complexity of society at this time. To this work, I bring all of what I have learned as a journalist, editor, astrologer, spiritual student and man of the world; and I offer it to you for an affordable price. Read more here.
Now available for instant access!