Today's Oracle takes us to the Gemini weekly for October 11, 2002.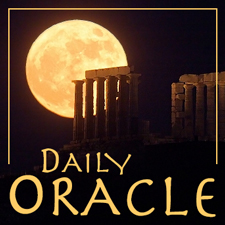 It would appear that you're working to break through to the next level of maturity. You still have some time, but events of the current week are likely to provide you a glimpse through to the other side, or more accurately, an actual breakthrough in thought that allows you to plot your vision of your future self. Your mind is not doing its usual butterfly routine; to the contrary, aspects are heavy, slow and provide excellent opportunity to bear down on real problems and get real results, which arrive in the form of ideas. The next few weeks offer many opportunities for putting them into action.
---
My autumn readings, called In These Times, offer a place of refuge, an opportunity to suspend self-judgment, and my careful reading of the charts. I offer you reasons to be motivated, and strategies for handling the strange complexity of society at this time. To this work, I bring all of what I have learned as a journalist, editor, astrologer, spiritual student and man of the world; and I offer it to you for an affordable price. Read more here.