Today's Oracle takes us to the Pisces monthly for August 1, 2005.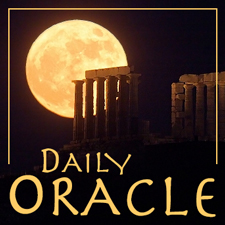 Who can fathom the depths of a Pisces? If anyone can, it is you. But I will reveal a few things from beneath the current Pisces psyche, in part, because as a Fish, I can. At this point, effort and pleasure must be balanced. The natural emphasis is going to be on effort, and there is no Pisces alive who does not feel that they owe a debt to existence. Therefore, there must be a sense that life offers its rewards back, and a flow must be maintained. To the extent that a young Pisces falters in keeping up that flow, you need to maintain it. And please be mindful of their sense of burden. Take what you can, and remember to leave them with the responsibilities they need to feel alive.
---
The Saturn-Pluto conjunction is separating, but still strongly influencing our experience. While this event will happen two or three times in the lives of most people, this particular instance is a moment of convergence and reckoning for the world and for us as individuals.
Eric has completed recording RESPECT, the 2020-2021 Planet Waves annual readings, to cover the momentous astrology of the coming year-plus. You can read more about the project, and order the readings for instant access, here.