Today's Oracle takes us to the Sagittarius monthly for March 10, 2016.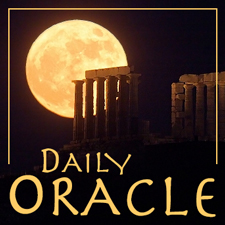 Long distance runners are familiar with a phenomenon called a "second wind." It occurs after a brief period of crisis marked by the apparent onset of exhaustion, long before the course has been run. Experienced runners know not to give up, and how to push through the misleading sense of being worn out prematurely — until they overcome what turns out to be their mind's resistance to avail themselves of their bodily reserves. Whether you are a runner or not, indications are that you will get your own version of a second wind very soon. Of course, you must discern when it is appropriate to slow down for the sake of your health. But as long as you know that you are both fit and fully capable, persevering at this time should soon bring you to a point where you suddenly feel that you can go the distance and then some. — By Len Wallick.
---
The Saturn-Pluto conjunction is separating, but still strongly influencing our experience. While this event will happen two or three times in the lives of most people, this particular instance is a moment of convergence and reckoning for the world and for us as individuals.
Eric has completed recording RESPECT, the 2020-2021 Planet Waves annual readings, to cover the momentous astrology of the coming year-plus. You can read more about the project, and order the readings for instant access, here.