Today's Oracle takes us to the Capricorn weekly for June 28, 2007.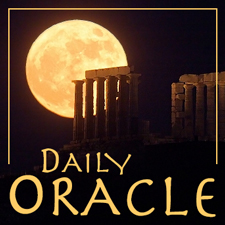 This week's Full Moon in your birth sign may signal how far you have to go, but I suggest you take the cue as to how far you have come. It's true, it feels like you're rowing your boat upstream with a small paddle, but at least you have the boat, and the oars. In truth, you've become accustomed to things being one way for so long, you may not even be able to visualize them any other way. Yet a lot is about to change; mainly, you will notice that the little island you've been living on is really an oasis of protection from the world's many storms. It's true, you've been rained on, but the farm is still standing. Actually, I am understating the case: you've done a lot better than this.
---
The Saturn-Pluto conjunction is separating, but still strongly influencing our experience. While this event will happen two or three times in the lives of most people, this particular instance is a moment of convergence and reckoning for the world and for us as individuals.
Eric has completed recording RESPECT, the 2020-2021 Planet Waves annual readings, to cover the momentous astrology of the coming year-plus. You can read more about the project, and order the readings for instant access, here.