Today's Oracle takes us to the Capricorn weekly for July 19, 2007.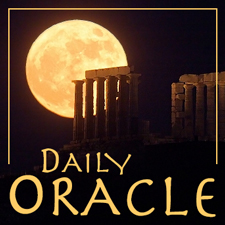 Faith is not a matter of opinion. It's about trusting what is true before you actually have proof that it's true. Faith is not about wishing; it's about living as if something were already proven to be true. If you can do that where a particular financial or deeply personal matter is concerned, you will see that in the light of faith, certain evidence is visible that is simply not visible in the shroud of darkness that is created by fear. I recognize that at the moment the world seems like one huge advertisement for what is unfair, untrue or otherwise doubtful. As you are a person of character, we are counting on you to stand your ground against these things.
---
It is difficult to feel good these days; it's challenging to focus on your growth and self-care, or even to relax. We are pulled out of ourselves constantly, and often distracted from our core purposes. IN THESE TIMES, the Planet Waves autumn reading, will help.
CURRENTLY AVAILABLE FOR PRE-ORDER