Today's Oracle takes us to the Cancer monthly for October 23, 2006.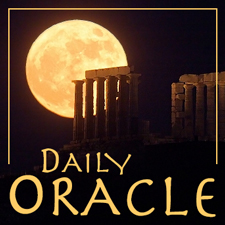 Evolving as an individual is more complicated than upgrading your computer's memory or adding a line to your resume. To the chagrin of control freaks and those who pretend to be alive more than they actually manage to do it, there is a chaos factor involved; and there is a sexual aspect, which is deeply involved with any process of becoming an individual. And there's always a risk. So it's necessary to trust your own higher intelligence in the midst of apparent uncertainty, including about whether you will succeed or fail at any particular effort. If you can do that, you'll tap into something larger than yourself that is expressing itself through you. You've been living with that 'something' for a long time, and it has been trying to acquaint you with itself. You alone can mediate your responses; you decide what value fear holds, and what value freedom holds.
---
My autumn readings, called In These Times, offer a place of refuge, an opportunity to suspend self-judgment, and my careful reading of the charts. I offer you reasons to be motivated, and strategies for handling the strange complexity of society at this time. To this work, I bring all of what I have learned as a journalist, editor, astrologer, spiritual student and man of the world; and I offer it to you for an affordable price. Read more here.