Today's Oracle takes us to the Pisces weekly for April 18, 2008.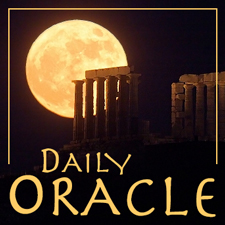 Now is the time to push your luck. You have plenty of it, and you will invoke it through a process of taking creative risks. These may be social in nature, or artistic; you may have a chance to pursue an increase in income, but not with the predictability of a two dollar per hour raise. If you allow a little element of so-called danger into your life, you're creating an opening for positive developments, rather than what you may perceive as fearful ones. If you look back at your life over a long period of time, such as 10 years or so, you will notice that you have been involved in a gradual awakening from a sleep you often did not know you were in. Your dreams were not entirely pleasant, but you've learned something about yourself that you can apply now that you are fully awake.
---
The Saturn-Pluto conjunction is separating, but still strongly influencing our experience. While this event will happen two or three times in the lives of most people, this particular instance is a moment of convergence and reckoning for the world and for us as individuals.
Eric has completed recording RESPECT, the 2020-2021 Planet Waves annual readings, to cover the momentous astrology of the coming year-plus. You can read more about the project, and order the readings for instant access, here.