Today's Oracle takes us to the Virgo monthly for September 12, 2005.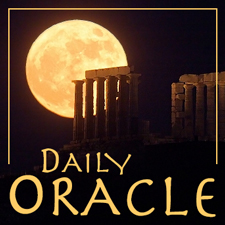 Virgos are not the type of people who typically feel like they can conquer the world, nor are they given to feeling like they have more than everyone else. This is, however, a time when their tendencies are running rather contrary to normal. It's a useful moment, when you can help them catch up on a wide variety of missing experiences and demonstrate what is possible when we feel good about ourselves. In truth, anything is possible. But the overriding message of what happens in these weeks is that what happens to us has a lot to do with how we feel about ourselves.
---
New in the Special Readings Series
Magnum Opus on Eclipses, Now Through Late 2020
Eric's new 90-minute discussion of all things related to eclipses, in any sign — with a focus on Cancer and Capricorn eclipses, from the current pair through 2020 — is available now for instant access. Part audio reading, part astrology class, it offers you a lot of help processing the solar eclipse on July 2 and the lunar eclipse on July 16, and features original music. Hear it as part of the 2019-2020 Astrology Studio for Cancer, or purchase the Eclipses Reading separately for only $33.