Today's Oracle takes us to the Leo monthly for May 1, 1999.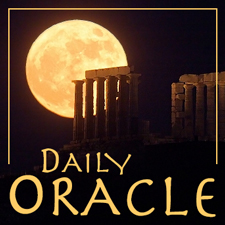 Someday, I'm going to write a brilliant article called "Little Bongo As An American Literary Hero." Little Bongo, whom I believe is a Leo — he would pretty much have to be — is the one-eared bunny from the "Life in Hell" cartoon by Matt Groening. Bongo evolved into Bart Simpson, but before doing so, he endured the bullies in the neighborhood, the mean dogs, the psycho teachers who bound-and-gagged him when he made up his own version of the Pledge, and he refused to say a single word to the school psychologist. He persevered, and so have you. But it's now time to give up your fear that so much hangs in the balance — even though it does — and conquer the world in your own sweet way.
---
The Saturn-Pluto conjunction is separating, but still strongly influencing our experience. While this event will happen two or three times in the lives of most people, this particular instance is a moment of convergence and reckoning for the world and for us as individuals.
Eric has completed recording RESPECT, the 2020-2021 Planet Waves annual readings, to cover the momentous astrology of the coming year-plus. You can read more about the project, and order the readings for instant access, here.