Today's Oracle takes us to the Sagittarius weekly for April 24, 2009.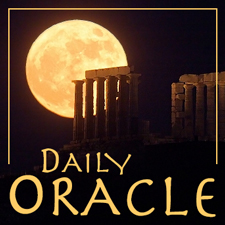 Words are important. They are a crucial aspect of commitment. At the moment, that commitment involves manifesting something that does not currently exist. Speak only the words that you mean, and make sure you mean precisely what you want to say. Images are meaningful, perhaps more meaningful, but they can have an ambiguous property and thus lack precision; but they make up for it in impact. In your personal healing process, or creative process or both, I suggest you work with both, using one to support the other. One is probably going to turn out to be more influential than the other — but not without the integration of the two. There will be a product of this sacred union: an idea. There is something visionary about your sign, and at the moment both of your guiding planets — Chiron and Jupiter — are perfectly integrated with Aquarius, the sign of ideas. Not just any ideas: when these two signs get together, ideas are born that change the course of history.
---
The Saturn-Pluto conjunction is separating, but still strongly influencing our experience. While this event will happen two or three times in the lives of most people, this particular instance is a moment of convergence and reckoning for the world and for us as individuals.
Eric has completed recording RESPECT, the 2020-2021 Planet Waves annual readings, to cover the momentous astrology of the coming year-plus. You can read more about the project, and order the readings for instant access, here.