Today's Oracle takes us to the Aries monthly for December 1, 2001.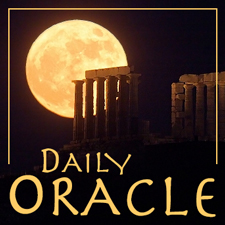 In an effort to cope with reality, you might try to make the world more simple, or to make yourself more complex, even when you know these things are not true. But if you do this, there's a loss of contact possible, a constriction of data flow between you and the people around you. This may account for the sacrifice of your relationships in the past year or so, but it's surely easy enough to learn how to get beyond. Interact with people, in language. Try not collecting knowledge, but rather, using it. And please do remember that mastering knowledge does not mean mastering people. The two are related, but the only person you really want to master is yourself, with great discretion, and in a spirit of freedom, if such are possible. But as for knowledge: the one sure way to tell if it's meaningful is whether it changes you.
---
My readings offer a place of refuge, an opportunity to suspend self-judgment, and my careful reading of the charts. I offer you reasons to be motivated, and strategies for handling the strange complexity of society at this time. To this work, I bring all of what I have learned as a journalist, editor, astrologer, spiritual student and man of the world; and I offer it to you for an affordable price. Read more here.
Now available for instant access!