Today's Oracle takes us to the Cancer weekly for July 17, 2014.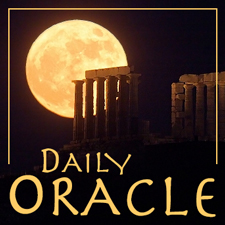 There remains the ongoing puzzle of how you translate what you feel into words. Anyone who has been friends with a dog knows that it's not what you say, it's how you say it. With humans, what you say is as meaningful as how you say it, and this often translates to the feeling behind the message. That is also the challenge — actually feeling when you speak, and aligning your emotions with your words. It's worth stepping up to that one. At the same time, there's that little problem of words being so easily misunderstood. Today and for the next few days, it would be a good idea to choose your words with extra care, and to go through several drafts of anything you want to put in writing. Leave it on your screen for a while and stare at it before pushing 'send' — for hours or a day or two. You will be glad you did.
---
It is difficult to feel good these days; it's challenging to focus on your growth and self-care, or even to relax. We are pulled out of ourselves constantly, and often distracted from our core purposes. IN THESE TIMES, the Planet Waves autumn reading, will help.
CURRENTLY AVAILABLE FOR PRE-ORDER