Today's Oracle takes us to the Aries monthly for September 27, 2013.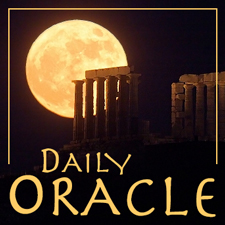 Others will have little choice but to deal with the fact that you cannot be anyone but yourself. Now, from one point of view, is it really possible ever to be anyone but yourself? Yet we all know how much faking so many people do. You've even done a little yourself every rare once in a while. You can count on opening your mouth and saying exactly what comes to mind, and trusting that the results will sort themselves out. I suggest you notice what you say to whom. Rather than being far flung and out of control, you're being more precise than you may think. It just may take you some time to have respect for your own point of view, especially if you manage to send out some ripples or have a few objections sent your way. Pay attention to who says what; notice who is turned on by your outbursts of authenticity. The one thing that nobody can complain about is that you're getting a lot done. I suggest you engage that fully, and focus an agenda of everything you want to get done for the rest of the year (assuming you're on such a schedule) and set about doing it sooner rather than later. Get a solid start on every project; get your research and your facts together; make progress while there's progress to be made.
---
The Saturn-Pluto conjunction is separating, but still strongly influencing our experience. While this event will happen two or three times in the lives of most people, this particular instance is a moment of convergence and reckoning for the world and for us as individuals.
Eric has completed recording RESPECT, the 2020-2021 Planet Waves annual readings, to cover the momentous astrology of the coming year-plus. You can read more about the project, and order the readings for instant access, here.