Today's Oracle takes us to the Aquarius weekly for January 10, 2003.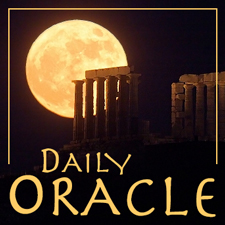 Keep practicing the art of looking through. Much of life is woven of illusions, that is, of the unreal that is perceived as real. Whether we take what is past for what is present, whether we think what we want is what's really there, or whether we assume a person is someone else, the only way to get free is to look through the image to the truth. This may be working on the level of your own mind at the moment: for example, with the question, what do you really think? If what you think today is the same as what you thought yesterday, then you may be looking straight at something that's simply not true. Consider this a time of profound re-evaluation. The moment you encounter what seems to be a fact or a belief, check its license.
---
The Saturn-Pluto conjunction is separating, but still strongly influencing our experience. While this event will happen two or three times in the lives of most people, this particular instance is a moment of convergence and reckoning for the world and for us as individuals.
Eric has completed recording RESPECT, the 2020-2021 Planet Waves annual readings, to cover the momentous astrology of the coming year-plus. You can read more about the project, and order the readings for instant access, here.