Today's Oracle takes us to the Capricorn monthly for December 23, 2008.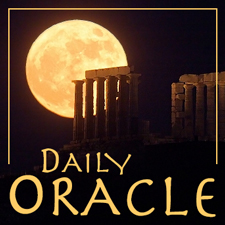 Do you need all the emotional barricades that you think protect you? What exactly do they protect you from? This is the question that is so infrequently asked. A Course in Miracles goes so far to suggest that we question why we have locks on our doors. It doesn't advise removing the locks, but rather asking specifically against whom they exist; and why we think they protect us. Barricades, locks and bolts are all forms of boundaries. So too is psychological armor; and secrecy; and this thing so casually called compartmentalization. Pluto has made its way into your sign. While every astrologer on the planet debates or ponders the meaning of this on a global scale, let's consider how this is going to clear the way to making you a more accessible person. The transit of Pluto in your sign represents a complete shift in your worldview and your perception of yourself (Capricorn Moon and rising included). Something is being dismantled, a something that was, in a sense, installed into you from birth, or rather long before birth: it came along with your DNA and what some call a karmic inheritance. It is this same something that is coming under a process of enforced change for many people around you, though for few of them so directly as it is affecting you. Look around and you'll notice the same thing, taking more abstract forms. The beauty of the moment is that you are being compelled to question every assumption you've ever had about yourself. You will see how these assumptions push you out of reach of the people who love you and more importantly, who you love. They form a latticework of denial of your most basic truth. As has been written before, you don't need to seek the truth — only that which obscures it.
---
The Saturn-Pluto conjunction is separating, but still strongly influencing our experience. While this event will happen two or three times in the lives of most people, this particular instance is a moment of convergence and reckoning for the world and for us as individuals.
Eric has completed recording RESPECT, the 2020-2021 Planet Waves annual readings, to cover the momentous astrology of the coming year-plus. You can read more about the project, and order the readings for instant access, here.