Today's Oracle takes us to the Pisces monthly for November 23, 2011.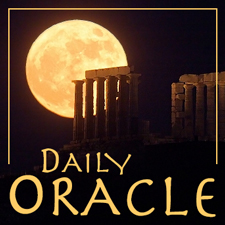 For you, everything comes back to how you feel. When you feel good you can conquer the world, and when you feel depleted or divided, it's hard to get anywhere. Therefore, focus on how you feel as your first priority, rather than on any specific goal. It's not that you don't have big stuff happening — indeed, from the look of your solar charts, you may have some of the biggest stuff ever going on. The next month is going to present you with some challenging opportunities, and while you may be tempted to think your way to success, or work your way there, I suggest you work backwards from the place of embodying the feeling of the success you want. How do you do that? The experience of fully engaging life has a sensation to it. You've felt it before; you can envision it now. That sensation involves how it feels to be in your body walking around on the planet. And it involves how you wield your vision. The word 'wield' is usually associated with things like swords and light sabers; consider your vision a power tool. This includes your communication skills, your ideas and your message. Timing is everything. For the next month, some important matters may seem to be delayed and others will feel like some kind of invisible partition over your head opened up and started letting in this really interesting kind of cosmic sunlight you've never seen. The world will look different, and seen in this new light, it's one vast opportunity.
---
The Saturn-Pluto conjunction is upon us: it is exact on Jan. 12. While this event will happen two or three times in the lives of most people, this particular event is a moment of convergence and reckoning for the world and for us as individuals.
Eric has completed recording RESPECT, the 2020-2021 Planet Waves annual readings, to cover the momentous astrology of the coming year-plus. You can read more about the project, and order the readings for instant access, here.