Today's Oracle takes us to the Leo monthly for March 22, 2013.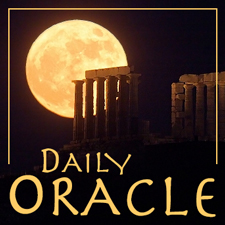 The age-old traditions of superficial, self-centered and boring won't work for you this month. They never did, but they are currently at an all-time low ebb. Therefore, you can plan on events that take you deeper, that involve you with others, and that are genuinely interesting. As you do, you may encounter the temptation to distract yourself with appearances, glamor and the desire to 'be known' for something. I suggest you succumb to nothing of the kind. Do what you do for its inherent value, rather than some secondary result. This leaves you plenty of room to focus on excellence, and to remember that a meaningful attribute of your karma is to focus groups of people into conscious coordination. As you do this, one thing to be aware of is anyone who does not want things to work. Some people on the planet have a not-so-funny way of reacting negatively when energy starts to focus in their proximity. They can be jealous when people succeed, seemingly not needing them. The first thing to do with anyone exhibiting this kind of attitude is to notice, and notice soon. There are a few ways to handle this kind of value; one is to include the person and keep him or her busy. Help them feel needed. Or, you can find a constructive use for their competitive spirit. Ask everyone involved what they need and what their expectations are. When you get your answer, set goals and make adjustments.
---
The Saturn-Pluto conjunction is separating, but still strongly influencing our experience. While this event will happen two or three times in the lives of most people, this particular instance is a moment of convergence and reckoning for the world and for us as individuals.
Eric has completed recording RESPECT, the 2020-2021 Planet Waves annual readings, to cover the momentous astrology of the coming year-plus. You can read more about the project, and order the readings for instant access, here.