Today's Oracle takes us to the Libra weekly for July 5, 2013.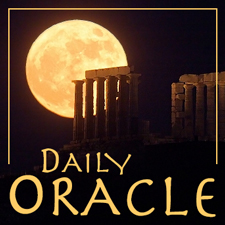 Now is the time to consider your intentions carefully and to get clear about what you want to accomplish and why. This is unlikely to happen overnight, though you will have moments the next few weeks when you can add certain ideas to your list, and remove some that have been around for a while. One question is the extent to which money plays a role in your plan, and to focus some clear, disciplined ideas. It will also help to have some lines drawn between your desire to be helpful, your drive for success and the necessities of accomplishing both. It's essential that you understand when you're being driven by an emotional factor, and to sort through those emotions and get to some clarity. Take this one step at a time. Take notes and keep a discussion going with key allies and supporters via email and gradually come to an understanding with yourself.
---
The Saturn-Pluto conjunction is upon us, just weeks away. While this event will happen two or three times in the lives of most people, this particular event is a moment of convergence and reckoning for the world and for us as individuals.
I'm underway recording RESPECT, the 2020-2021 Planet Waves annual readings, to cover the momentous astrology of the coming year-plus. You can read more about the project, and pre-order the readings, here.