Today's Oracle takes us to the Aries monthly for September 5, 2005.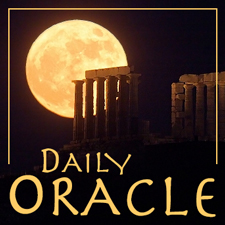 You seem to be taking an unusually hygienic attitude toward your personal affairs, though the emotions rarely stay dry or clean for long. What you can do is keep the water flowing, the windows open and some level of a discussion happening. But you run the risk of talking or reasoning yourself out of an erotic encounter that could bring you some of the nourishment and pleasure you're seeking the most. Remember, passion is what you want, not what your daddy told you it should be. He knew a lot, but he didn't know everything.
---
My readings offer a place of refuge, an opportunity to suspend self-judgment, and my careful reading of the charts. I offer you reasons to be motivated, and strategies for handling the strange complexity of society at this time. To this work, I bring all of what I have learned as a journalist, editor, astrologer, spiritual student and man of the world; and I offer it to you for an affordable price. Read more here.
Now available for instant access!