Today's Oracle takes us to the Aquarius weekly for March 2, 2007.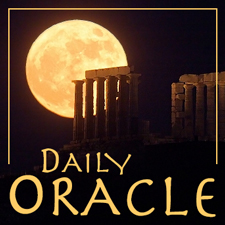 The focus is on your birth sign right now, including a cool or rather hot alignment of planets in Aquarius, among them a conjunction of Mars and Chiron — two warrior planets — that will be developing the next couple of weeks. More immediately, the Sun is making a conjunction to your ruling planet Uranus in Pisces. This is about progress, potentially developing so quickly that it feels like it may run out of control. Actually, it's more likely to follow well-established architecture, though you may be surprised at the scale on which things develop, and the intensity of the process: the building is always bigger than the drawing, is it not? Keep your focus and please be open to your ideas about your own life.
---
My readings offer a place of refuge, an opportunity to suspend self-judgment, and my careful reading of the charts. I offer you reasons to be motivated, and strategies for handling the strange complexity of society at this time. To this work, I bring all of what I have learned as a journalist, editor, astrologer, spiritual student and man of the world; and I offer it to you for an affordable price. Read more here.
Now available for instant access!