Today's Oracle takes us to the Taurus weekly for February 22, 2008.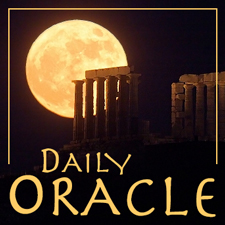 You are not alone, but here is the thing about your charts, now and perhaps for always: the greater things you aspire to, the less they tend to happen solo. In other words, the hotter your creative fire is burning, the more people are drawn into the process. Reach out if you want to — but meanwhile, notice who you just happen to pull in your direction. Notice how people respond to you in group situations. Observe the impact you have on the people around you, and the way the light you are emitting colors the whole landscape. The fact that you may feel self-conscious is not, and I repeat, is NOT a reflection on the way you are perceived. As much as any two things can be different, the way you experience yourself among others and the way that others experience you bear nearly no relationship. To see the truth of this, you're going to need to look.
---
The Saturn-Pluto conjunction is separating, but still strongly influencing our experience. While this event will happen two or three times in the lives of most people, this particular instance is a moment of convergence and reckoning for the world and for us as individuals.
Eric has completed recording RESPECT, the 2020-2021 Planet Waves annual readings, to cover the momentous astrology of the coming year-plus. You can read more about the project, and order the readings for instant access, here.