Today's Oracle takes us to the Leo monthly for September 1, 1999.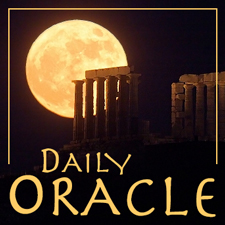 The only thing that ever wrecks passion is guilt. The only thing that ever messes up life is guilt. The only thing that ever obscures anything is guilt. In very immediate terms, the only thing that ever causes you pain or conceals who you are from yourself is guilt. The most important things to remember about this strange emotion are that it's insidious and masquerades as many things, including as "other people's' guilt." Guilt is not "guilt about," it's merely a generalized sense that you are wrong. Guilt always comes from the past, it is usually the result of having been attacked in the past by guilty people, and it's the basis of all fear, anger, greed and denial. These ideas may not make total sense to you sense now, and you may be feeling quite a bit of pride in who you are, but now is a good time to begin a program of vigilance about the only thing that can ever really hurt you, or obscure the great gifts you have to offer.
---
The Saturn-Pluto conjunction is separating, but still strongly influencing our experience. While this event will happen two or three times in the lives of most people, this particular instance is a moment of convergence and reckoning for the world and for us as individuals.
Eric has completed recording RESPECT, the 2020-2021 Planet Waves annual readings, to cover the momentous astrology of the coming year-plus. You can read more about the project, and order the readings for instant access, here.