Today's Oracle takes us to the Capricorn weekly for February 14, 2002.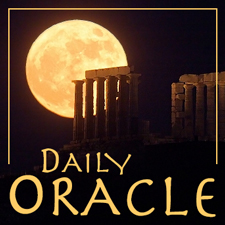 This is or has been quite a moment of suspense; or rather suspended suspense prior to an uncertain outcome. You may rightly think that careful planning is extremely valuable to you at this moment: a strategy a life plan doing things the right way. The problem is that there is no right way not at this point. There is no clear direction forward there is only what you care about if only you would really care about it. There is only the beautiful gift you possess which you must feel and in which you must have faith. I borrow a second time from Alphaville for a few words of cosmic guidance: It's so supersensual sentimental / forget about your deepest fears / switch back to the golden years.
---
The Saturn-Pluto conjunction is separating, but still strongly influencing our experience. While this event will happen two or three times in the lives of most people, this particular instance is a moment of convergence and reckoning for the world and for us as individuals.
Eric has completed recording RESPECT, the 2020-2021 Planet Waves annual readings, to cover the momentous astrology of the coming year-plus. You can read more about the project, and order the readings for instant access, here.