Today's Oracle takes us to the Pisces monthly for September 1, 2002.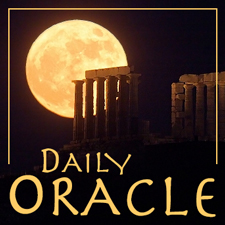 Watch business negotiations carefully this month and, for that matter, personal negotiations. Keep a notebook and keep track of what you exchange, how your worth fluctuates on a day-to-day basis, and how what you believe about money fluctuates probably a bit more frequently than that. Keep track of how your notion of your worth in the lives others changes. And do observe your thoughts. Have you ever had the notion that 'one idea is all it takes'? This is actually true. Most of the great things that we see in the world, the helpful, the profitable, the ingenious, the true breakthroughs, are all born of a single idea. I would add, one idea, the right idea, for which you will need to be attentive and keep sifting, and listening to your intuition; that one idea is all it takes, and just the right quantum of energy to give it life.
---
The Saturn-Pluto conjunction is separating, but still strongly influencing our experience. While this event will happen two or three times in the lives of most people, this particular instance is a moment of convergence and reckoning for the world and for us as individuals.
Eric has completed recording RESPECT, the 2020-2021 Planet Waves annual readings, to cover the momentous astrology of the coming year-plus. You can read more about the project, and order the readings for instant access, here.