Today's Oracle takes us to the Virgo weekly for September 16, 2011.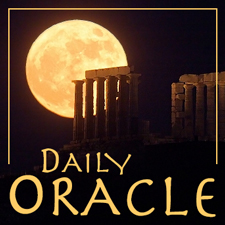 The Sun is now making its way through the last degrees of your sign. It's been a long month, but you're about to be the recipient of one last surge of summer energy, motivation and drive. You will, that is, if you don't allow a partnership situation to sap your energy. I suggest you keep your focus on yourself, as challenging as that may be. The main distraction is likely to be emotional turbulence, and you may want to go deeper into the relationship in order to 'work that out' or 'resolve it'. This is more like a temptation than a reality; the more you extract yourself from the situation and get some perspective, the easier it will be to see it for what it is. I recognize that you may have the sensation of descending into an uncomfortable kind of self-judgment, but your release from that feeling arrives shortly after you're directly honest with yourself about it.
---
It is difficult to feel good these days; it's challenging to focus on your growth and self-care, or even to relax. We are pulled out of ourselves constantly, and often distracted from our core purposes. IN THESE TIMES, the Planet Waves autumn reading, will help.
CURRENTLY AVAILABLE FOR PRE-ORDER