Today's Oracle takes us to the Aquarius weekly for April 4, 2003.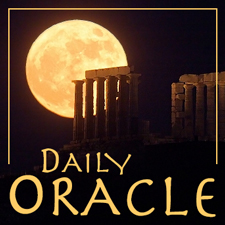 My take on asteroid Lilith is that she represents the Original Woman within. Not every person born under Aquarius is especially at peace with their inner feminine. Lilith, embodying the concept of the 'core woman' and which has just entered your sign, does not meet any of our expectations for who this woman is supposed to be. That's precisely the issue. Another expression of this is we're supposed to deny entirely that we know she even exists, or that she ever played a role in world culture; we are trained to accept the imitation and have disdain for the real feeling. As Adrienne Rich said it, "The wreck and not the story of the wreck / the thing itself and not the myth." When you get there, notice how you feel, because that's why you've made the trip.
---
It is difficult to feel good these days; it's challenging to focus on your growth and self-care, or even to relax. We are pulled out of ourselves constantly, and often distracted from our core purposes. IN THESE TIMES, the Planet Waves autumn reading, will help.
CURRENTLY AVAILABLE FOR PRE-ORDER