Today's Oracle takes us to the Capricorn weekly for July 29, 2005.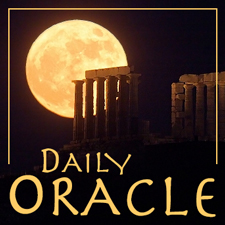 Now comes a test of your patience. It's not that others are acting in bad faith or that their hesitancy is any kind of a reflection on what you have to offer. Don't take it personally. Rather really focus on where people are coming from. You will gather part of your information from what people say and part from what they don't say. Try to overlook the fact that you think they're really neurotic and hung up on petty issues that don't matter anyway. If you can tune into their long-range objectives and your own you will be able to distinguish what matters from what does not.
---
My readings offer a place of refuge, an opportunity to suspend self-judgment, and my careful reading of the charts. I offer you reasons to be motivated, and strategies for handling the strange complexity of society at this time. To this work, I bring all of what I have learned as a journalist, editor, astrologer, spiritual student and man of the world; and I offer it to you for an affordable price. Read more here.
Now available for instant access!