Today's Oracle takes us to the Sagittarius weekly for April 18, 2014.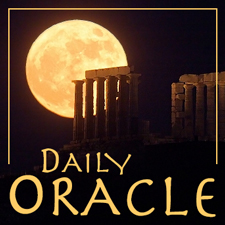 This is not the time to make or break contracts — you're under too much pressure, there are variables you don't know about, and it's essential that you figure out what you want before you commit to anything new. I suggest you hold to your current course as the grand cross and solar eclipse do their work, though obviously if you encounter something interesting to do, do it if you want, as long as you don't sign away any portion of your future longer than an evening or weekend adventure. The very most significant thing you can do is to see your options. This really is one of the great challenges facing humanity, even in this time of so many alleged choices. Most of the usual options don't apply to you; they are too trivial. Your astrology suggests this is a time of authentic, deep decisions for you, and to make such decisions you need some idea of what is available. Your fiery nature usually likes to jump into things headlong without considering what might develop. Your current astrology is saying you need to be a clear thinker, an analyst and a visionary to make the most out of your options, many of which you don't yet know exist.
---
The Saturn-Pluto conjunction is separating, but still strongly influencing our experience. While this event will happen two or three times in the lives of most people, this particular instance is a moment of convergence and reckoning for the world and for us as individuals.
Eric has completed recording RESPECT, the 2020-2021 Planet Waves annual readings, to cover the momentous astrology of the coming year-plus. You can read more about the project, and order the readings for instant access, here.