Today's Oracle takes us to the Scorpio weekly for November 22, 2002.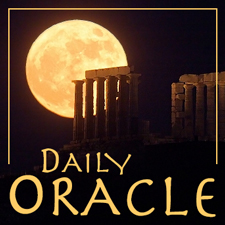 There's an interesting dialog developing between what you know and what you think you don't know. Part of the discussion involves the issue of whether something or someone is a blessing or a source of fear and irritation. These are never simple answers, but they are often based on the wrong questions. Fears don't usually warn us of actual dangers, but they do alert us to internal weaknesses. Blessings exist in everyone's lives, but are invisible to those whose inner sense of their own being, or lack thereof, inflicts a kind of blindness that can cause much of the world to vanish. It's very likely that the real conduct of anyone you're questioning has been perfectly faithful. The more you notice, the more true it will be.
---
The Saturn-Pluto conjunction is separating, but still strongly influencing our experience. While this event will happen two or three times in the lives of most people, this particular instance is a moment of convergence and reckoning for the world and for us as individuals.
Eric has completed recording RESPECT, the 2020-2021 Planet Waves annual readings, to cover the momentous astrology of the coming year-plus. You can read more about the project, and order the readings for instant access, here.