Today's Oracle takes us to the Pisces daily for May 5, 2006.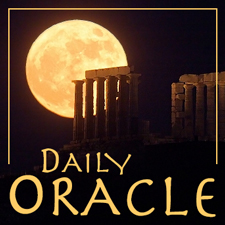 You can fall back on some old talents, skills and resources this week; they will serve you well. You have plenty of those; it's just that you tend to forget about them on a regular basis. While you're at it, remember all the times where you did, in fact, define the terms of your own reality, and proved that it works. This is a moment in your life when, astrologically, you're crossing a great stream. There are rocks that go all the way across, and you can walk on them. But you need to use the ones that are not slippery, and remember, it's always better to get your feet wet than it is to fall into the water.
---
The Saturn-Pluto conjunction is separating, but still strongly influencing our experience. While this event will happen two or three times in the lives of most people, this particular instance is a moment of convergence and reckoning for the world and for us as individuals.
Eric has completed recording RESPECT, the 2020-2021 Planet Waves annual readings, to cover the momentous astrology of the coming year-plus. You can read more about the project, and order the readings for instant access, here.